Garth Crooks's team of the week: Kane, Vardy, Payet, Ayew

By Garth Crooks
Football analyst
Last updated on .From the section Football
Another bad day for Chelsea manager Jose Mourinho, joy in front of goal for a pair of England strikers and a not-so Super Sunday. The Premier League served it all up again this weekend.
The Manchester derby was dire but City did enough to go back to the top of the table, while Tim Sherwood's eight-month stint in charge of Aston Villa was ended by Swansea.
But who were the standout performers? Here are my selections.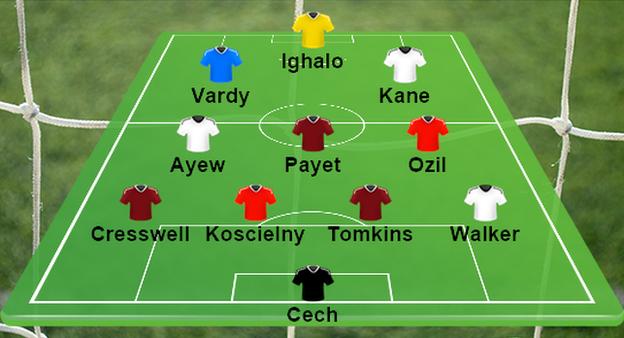 Goalkeeper - PETR CECH (Arsenal)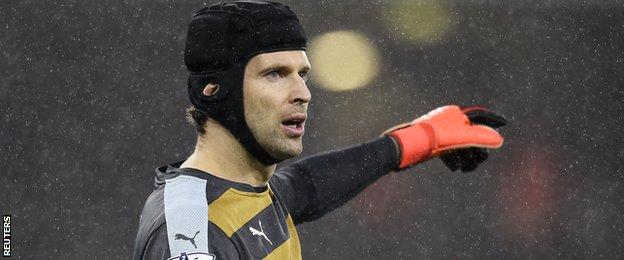 When Petr Cech arrived at Arsenal in the summer some thought it was a foregone conclusion that the Gunners would lift the title. Well, I never went that far, but the same clever clogs that made that bold assumption are entitled to feel a little smug with themselves after Arsenal's latest victory over Everton.
Not only did it take the Gunners top of the table - albeit for 24 hours - it highlighted that Arsene Wenger can actually spot a world-class goalkeeper after all.
Defender - KYLE WALKER (Tottenham)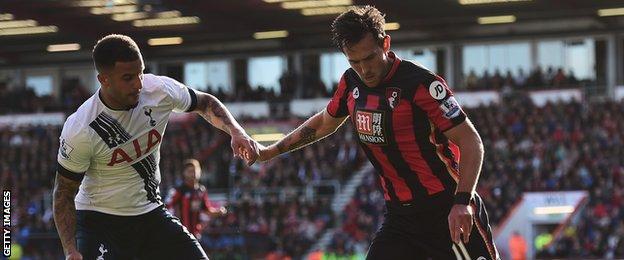 It was a very professional display by Spurs at Bournemouth and arguably their best team performance this season. Admittedly Tottenham were not playing a team with the quality of Manchester City but that was not their fault.
Kyle Walker was impressive against City in the 4-1 win last month and even better against Bournemouth. The full-back is playing with so much confidence at the moment it's scary.
Defender - LAURENT KOSCIELNY (Arsenal)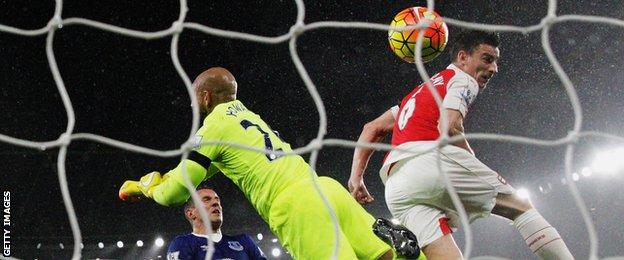 If you are going to score your first goal of the season you might as well do it in front of your own supporters when it takes you top of the table. Laurent Koscielny's header was not only beautifully timed but superbly executed. He's done this sort of thing before of course - it's just rather infrequent.
I love to see defenders who pose a threat on attacking set-pieces and Koscielny can definitely do that. However, I can't help feeling that if Everton keeper Tim Howard was as alert as he should have been, Koscielny should be waking up the following morning with one hell of a headache.
Defender - JAMES TOMKINS (West Ham)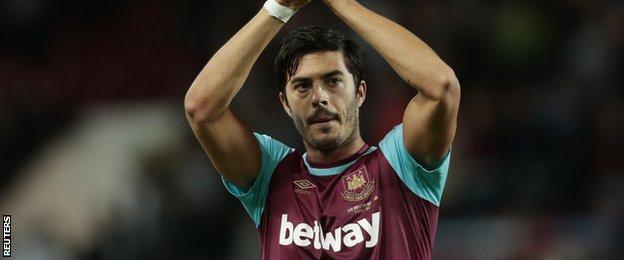 James Tomkins played at right-back for West Ham in their amazing win over Arsenal in their opening game of the season and then was unceremoniously dropped. Manager Slaven Bilic then called Tomkins back into the side to face Chelsea's Diego Costa, Eden Hazard and Cesc Fabregas.
We all love to play in the big games but that's enough to give any defender sleepless nights. Tomkins didn't just handle the situation for the Hammers, he was outstanding, and if Bilic - who is proving to be a massive hit at West Ham - is serious about continuing this run of form, he should give Tomkins a run in the side. I think he's earned it.
Defender - AARON CRESSWELL (West Ham)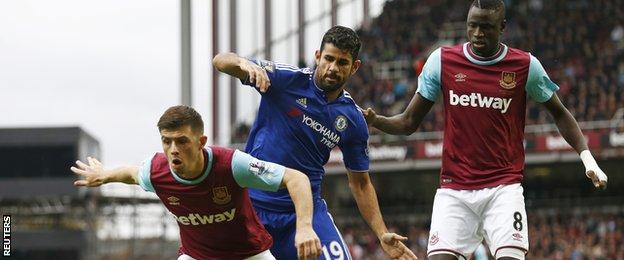 Aaron Cresswell played a very important part in an impressive team display by the Hammers, with the highlight being his cross for Andy Carroll's winner. The centre forward did what he does best but he couldn't have been given a more inviting ball to attack.
It doesn't matter who West Ham face this season, if Carroll is on the pitch and Cresswell can provide the quality of cross he did against Chelsea then the Hammers will be a handful for anyone.
Midfielder - ANDRE AYEW (Swansea)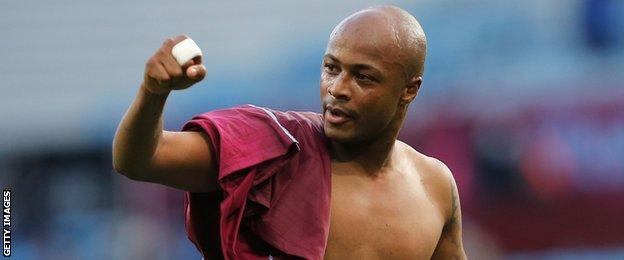 It's most unusual to see two brothers playing in the Premier League against each other and even more strange when they both get on the scoresheet. Aston Villa's Jordan Ayew scored a very well-taken goal to put Villa ahead but sadly it wasn't enough to save Tim Sherwood from the sack.
But it was Jordan's brother Andre who created an impossible situation for Sherwood. The Ghana international could have scored two goals but in the end settled for one - and with devastating consequences. Before the game both Sherwood and Swans boss Garry Monk were under pressure. But after Ayew produced the goods the pressure has eased on Monk.
Last season Monk was my manager of the season, and now people are telling me he's under pressure for his job. What utter nonsense.
Midfielder - MESUT OZIL (Arsenal)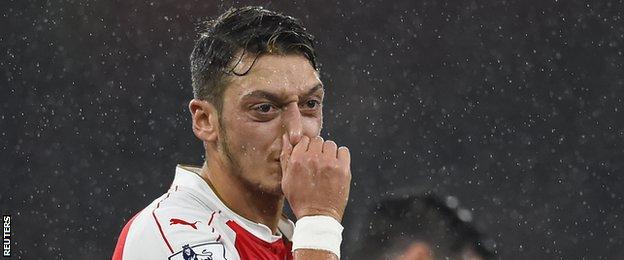 I've heard some nonsense spoken about Mesut Ozil not doing enough tracking back or defending, mostly from disgruntled Arsenal fans on BBC Radio 5 live's 606 after a poor home performance, when the boo-boys are looking for a scapegoat. Occasionally the Germany midfielder does drop his head out of frustration when things don't go his way or sulk when he's not playing in his best position, but it's generally not for long.
This lad is a fabulous footballer and one of the reasons the Gunners are having success at the moment. Against Everton he was sensational and just waltzed through the game. Great players can do that. I make the point now because there will come a time when Arsenal will go through a sticky period, but I suggest the Arsenal boo-boys take care of their precious stones in good times and bad. If not they might start losing one or two.
Midfielder - DIMITRI PAYET (West Ham)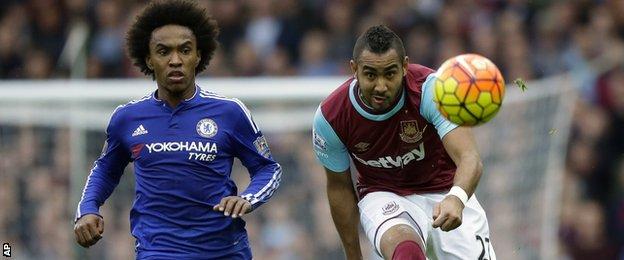 What a signing Dimitri Payet is proving to be for West Ham manager Slaven Bilic. Ever since his arrival at Upton Park the Frenchman has been a sensation. It's clear that Payet and his West Ham colleagues enjoyed every minute of their victory over a Chelsea side full of talent but little else.
At the moment Chelsea look like a side wallowing in self-pity, at odds with officialdom, showing extraordinary levels of indiscipline with a manager who looks like he's trying to find a way out of Stamford Bridge altogether. That said, if Mourinho can pull himself and his team together I still think there is a top-four finish waiting for them.
The strange thing is I don't see Champions League football for Payet with West Ham any time soon.
Forward - JAMIE VARDY (Leicester)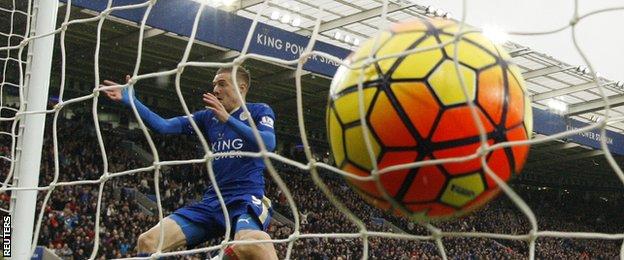 The Leicester City fans are singing, "Jamie Vardy is having a party". Well, if scoring in seven consecutive games and hitting 10 goals so far this season is anything to go by then it's one hell of a party.
That said referee Mike Dean could have put a stop to all the merriment when he should have awarded Crystal Palace winger Wilfried Zaha a penalty, but he then added insult to injury by issuing a caution to the player for diving.
In the meantime, Vardy and his Leicester team-mates will continue rocking their way through the weekend - probably to the sound of Kasabian with a few pizzas thrown in by manager Claudio Ranieri.
Forward - ODION IGHALO (Watford)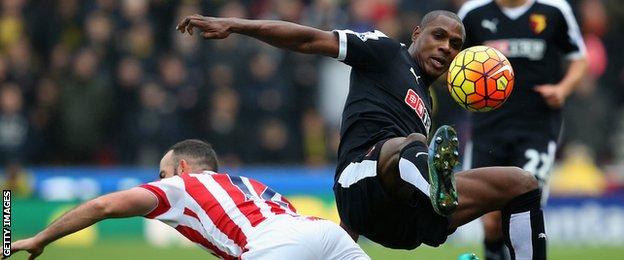 Don't you just love to see a strike partnership? They are so rare these days. Odion Ighalo and Troy Deeney have worked out that they might not be the best individual strikers in the league but as a double act they can be just as effective as a Sergio Aguero or a Daniel Sturridge.
I wanted to pick Deeney but Ighalo was too impressive. His flick around the corner for Deeney to score his first Premier League goal was just wonderful. Not satisfied with that Ighalo then stole the ball from Marc Wilson to feed Almen Abdi, who finished like his life depended on it.
It was a brilliant, unselfish all round display.
Forward - HARRY KANE (Tottenham)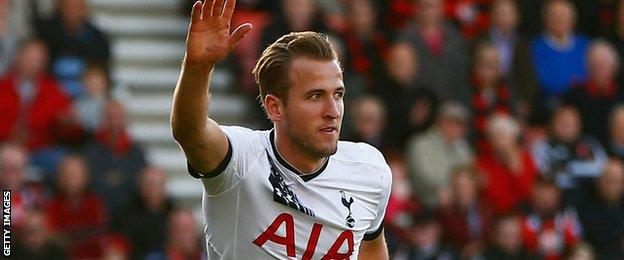 The boy is back. Harry Kane had only scored one league goal this season prior to the game against Bournemouth but a hat-trick against the Cherries has put that particular stat to bed as the striker came off to a standing ovation.
I'm a big fan of Bournemouth manager Eddie Howe and the way he chooses to play the game, but you can't have your goalkeeper making the sort of mistakes Artur Boruc made in front of Kane.
Boruc's display against Spurs was not pretty and Kane will be extremely grateful. Howe will have to sort their goalkeeper position out very quickly. Bournemouth's future in the Premier League may depend on it.