Paul Sturrock: Yeovil Town boss up for relegation fight
Last updated on .From the section Yeovil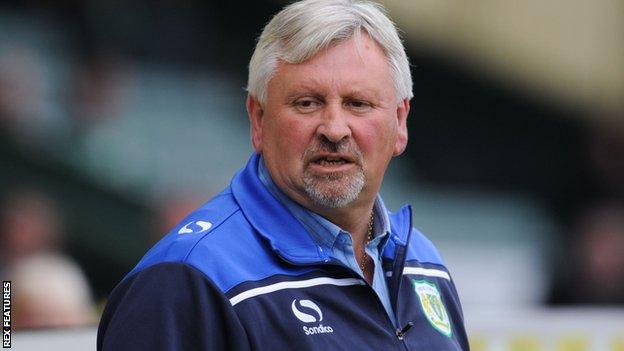 Yeovil Town manager Paul Sturrock says he is ready for a relegation fight and is confident his side can turn things around in League Two.
Sturrock's 23rd-placed Glovers were beaten 3-2 by Cambridge on Saturday which left them winless in eight games.
"I've never been relegated with a team I've managed since the start of the season and I'm not about to start now," Sturrock told BBC Somerset
"Sleeves are rolled up, we'll give everything we've got."
Yeovil were 3-0 down after 35 minutes at Huish Park before staging a mini second-half fight back to pull things back to 3-2. That second 45 minutes encouraged Sturrock, who also defended chairman John Fry from supporter criticism.
"The chairman is working very hard to find the finance to strengthen the squad," he said.
Sturrock's experience
Won 20 caps for Scotland as a forward, playing in the 1986 World Cup and reaching the 1987 Uefa Cup final with Dundee United
Managed eight clubs in Scotland and England
Won five promotions with four clubs, including two in three seasons with Plymouth Argyle from 2001-2004
Announced he was suffering from Parkinson's disease in 2008
"He is working day and night, he works so hard for the football club so I think it's a bit harsh.
"We will work even harder to turn this around and I'm very confident after seeing that today. If we can get healthy we are going to ascend this league."
Sturrock also urged Yeovil fans to see his building of a new squad as a project that will take several years.
"This is a long term thing not a short term thing," he said. "The Arsenal manager said it takes seven months for a player to understand how things work.
"We put 19 players in here at the start of the season, yes I made mistakes with some of them. Our aim is to stay in this league, there is no other criteria than that and I am confident we will do that when we have everyone in better condition.
"It's a three-year plan, it was always a three-year plan. Other clubs do this and we are doing exactly the same thing. I understand fans want a quick fix, I'm frustrated, I still believe we have the players here and that we will be comfortable."