Jose Mourinho: Frank Lampard backs Chelsea boss to turn form
Last updated on .From the section Football
Chelsea boss Jose Mourinho is the right person to turn around the club's slump, says ex-Blues midfielder Frank Lampard.
The reigning Premier League champions have lost five of 10 league games.
Lampard played under Mourinho in both his spells as Chelsea boss.
"With Mourinho in charge, the squad they've got, the talent they've got on the pitch - I don't see any way that they won't turn it around," said Lampard, who received an OBE for services for football on Tuesday.
Chelsea are currently 15th in the top flight, while Mourinho has earned two separate Football Association charges this season.
Furthermore, the Portuguese was cleared by the FA but criticised for his treatment of club doctor Eva Carneiro, who left the club after Mourinho accused her of "naivety" during a 2-2 draw with Swansea.
The Portuguese manager has also railed against Arsenal boss Arsene Wenger, who he believes has been treated differently by the FA.
Club should stick by Mourinho - Nevin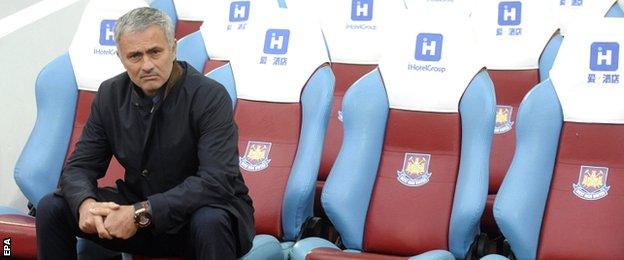 Chelsea face a trip to Stoke in the Capital One Cup on Tuesday night with some reports suggesting that Mourinho could be sacked if he loses against Liverpool on Saturday.
Despite a rocky start to the season, former Blues forward Pat Nevin believes the club should not dispose of the 52-year-old after winning the title last season.
Nevin, who said that Mourinho was feeling the pressure, told BBC Sport: "If I was a Chelsea executive, I would want to keep him.
"If I want somebody to rebuild something, then I would want someone who is as good as anyone around. Sometimes you have to be strong and believe in the guy who has got a bit of talent. If it was me I would be standing by him."
Nevin also believes Mourinho's recent behaviour is not an attempt to walk away from the club, having signed a new four-year contract in August.
He added: "There has been times in the past where he has fallen out with referees and officialdom before and it hasn't always led to him immediately leaving. That's just the personality of the man.
"He will not shy away from a battle or a fight, especially when he feels he's absolutely right. So for the media to then take the attitude that he wants away, it's quite a leap."
'Not the same Mourinho'
Mourinho returned for a second spell in charge at Stamford Bridge in 2013 and won his third Premier League title with the Blues his last season.
His previous two triumphs came in his first spell, which lasted from 2004 to 2007.
David Johnstone, from the Chelsea fanzine cfcuk, said: "It's not the same Jose Mourinho that was here in 2004.
"I don't know what his problem is but he cannot go on blaming referees and everybody else for what's going on.
"The majority of Chelsea supporters are behind him but I know a lot of Chelsea supporters who wouldn't be bothered if he left tomorrow."