Dave King aims to protect Rangers' interests in retail deal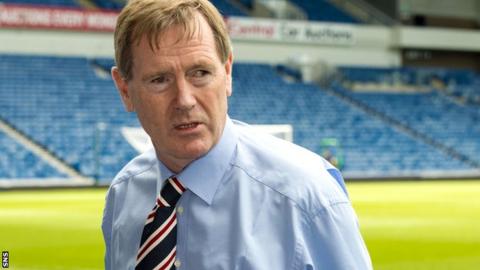 Dave King says he will continue to hold Sports Direct "accountable" for its commercial relationship with Rangers.
Sports Direct was granted an injunction to prevent Ibrox directors from revealing details of the retail arrangement.
The Ibrox chairman says that the board will continue to protect the club's interests with "robustness".
He added that Rangers will not be "cowed" by the ongoing legal measures taken by Sports Direct.
Sports Direct's major shareholder, and Newcastle United owner, Mike Ashley also holds a stake in Rangers International Football Club (RIFC). The sports retailer called a RIFC extraordinary general meeting in May to try to force Rangers to pay back a £5m loan, and sought the High Court injunction ahead of the EGM.
The court order prevents Rangers directors from revealing details of the merchandise and retail agreement between the two companies. As a director of Rangers Retail Limited, King has written to Sports Direct to complain about elements of the arrangement.
Rangers Retail runs the club's retail operation, including the Rangers Megastore, and hold the rights under licence to the club's crests.
"Supporters have requested an update on the club's relationship with Sports Direct which is one of the key issues that I promised to deal with prior to, and after, being elected to the board of Rangers International Football Club," King said.
"It is widely known that Sports Direct applied to court for an injunction to prevent myself and my fellow directors from disclosing certain details of the agreements between the club and the Sports Direct group, including the existence or detail of any meetings between the parties.
"The gagging order prevents me from disclosing the details of our contractual relationship, it does not prevent me from updating supporters on the status of the general relationship with Sports Direct.
"Sports Direct continues to litigate with the club in an attempt to enforce its wishes and demands. This seems based on the simple logic that Sports Direct can outspend the club in legal fees and thereby deal with the club as it pleases.
"I assure supporters that the club will not be cowed by this threat and the recent lack of communication (as a result of the gagging order) belies the level of robustness with which the club's interest has been and will be protected.
'Poor business practices'
"Furthermore, I have sent letters to Sports Direct in my capacity as a director of Rangers Retail Limited taking them to task for poor business practices and corporate governance failures.
"The club believed that it was entering into a joint venture with a large public company that would behave as a partner should and would conduct its business affairs in an appropriate fashion.
"In my 40 years of business I cannot recollect having dealt with a public company that is run more like a wholly owned family business and appears unconcerned with other stakeholders - partners or otherwise. It remains my intention to ensure that Sports Direct is legally and financially held accountable for its failures."
Sports Direct has yet to comment on the statement.