Sheffield Wednesday: Fantastic to beat Arsenal - Carlos Carvalhal
Last updated on .From the section Football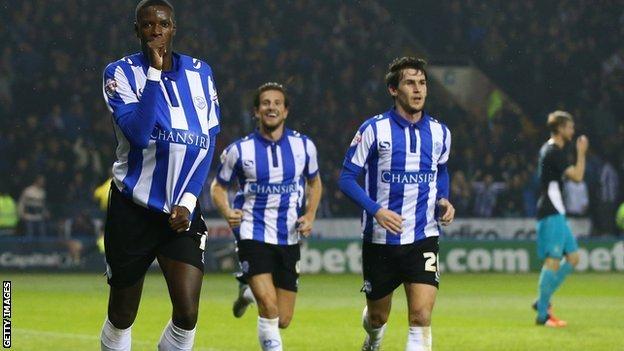 Sheffield Wednesday head coach Carlos Carvalhal says his side's win over Arsenal in the League Cup is a "fantastic" boost for the club.
"It was an amazing night for the club and our self-confidence," he told BBC Radio Sheffield.
"What the players did was fantastic. They followed our plan 100% so we blocked the game."
He added: "Arsenal have a very strong game inside and the full-backs provide the width so what we tried to do was press inside and block the outside with our wingers."
Goals from Ross Wallace, Lucas Joao and Sam Hutchinson secured victory for the Owls, who are ninth in the Championship and unbeaten in nine games.
'Joao like a diamond'
Portuguese striker Joao scored his second goal in two matches to give the Owls a 2-0 half-time lead against Arsene Wenger's side, currently second in the Premier League.
Despite his impressive start to life in England, Carvalhal is keen to keep expectations for the 22-year-old in check.
"He is a boy and the fans like him because they can see he is getting better," Carvalhal said.
"He is like a diamond with big potential, but we must care for him."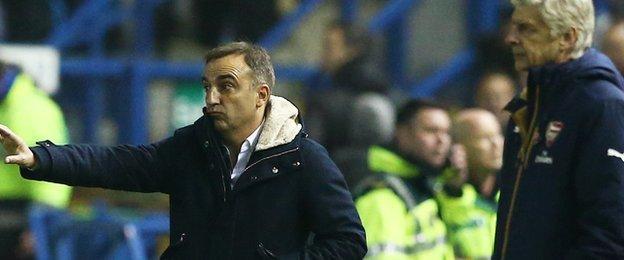 Wednesday host Nottingham Forest in the Championship on Saturday.
Owls chairman Dejphon Chansiri said he wants the club to win promotion to the Premier League by 2017 but Carvalhal says his side are not among the favourites to go up this season.
"There are 10 teams in the Championship better than us. They have better squads, better budgets and they buy strong players," he added.
"In this moment we have a team that is winning because we are showing very good teamwork, the moment we don't do that we will not win. That is why I keep my feet on the ground."