Fifa 'should repay' Australia failed 2022 World Cup bid costs
Last updated on .From the section Football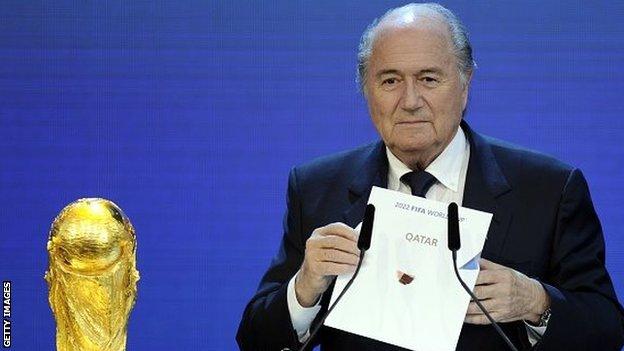 Fifa should repay the money spent by Australia on its failed 2022 World Cup bid, according to a whistleblower who worked on the campaign.
Suspended Fifa president Sepp Blatter has suggested there was a pre-vote agreement for the USA to host the 2022 event before voting swung to Qatar.
Bonita Mersiades, former head of communications for Australia's bid team, called the vote a "busted flush".
Australia spent more than A$45m (£20.9m) of public money on its bid.
The Serious Fraud Office is examining a £270,000 payment by the Australia 2022 bid committee to former Fifa vice-president Jack Warner, which may have gone through London, as part of its investigation into money laundering claims against Fifa.
The Australian Football Federation and Warner deny any wrongdoing.
"Regardless of how it was spent, when it was taxpayers' money and when the process was as broken and as fixed as Sepp Blatter says, then the money should be recovered on behalf of the taxpayers," Mersiades told BBC Radio 5 live.
Mersiades gave evidence to US lawyer Michael Garcia for his 2014 investigation into the bidding process for the 2018 and 2022 World Cups under condition of anonymity.
However, she complained that she and fellow whistleblower Phaedra Al Majid were "clearly identifiable" in judge Hans-Joachim Eckert's summary of Garcia's findings.
Mersiades, who co-founded of the campaign group New Fifa Now, said "highly paid consultants" told the Australia 2022 team that parts of the bidding process, including the technical inspection and final presentation, "didn't count" towards the final vote.
She said: "You ask yourself why we paid all this money for those things."
Blatter has also suggested there was an agreement in place for Russia to host the 2018 World Cup - before the vote took place.