Peterborough's Chris Forrester the next Michael Carrick - Westley
Last updated on .From the section Peterborough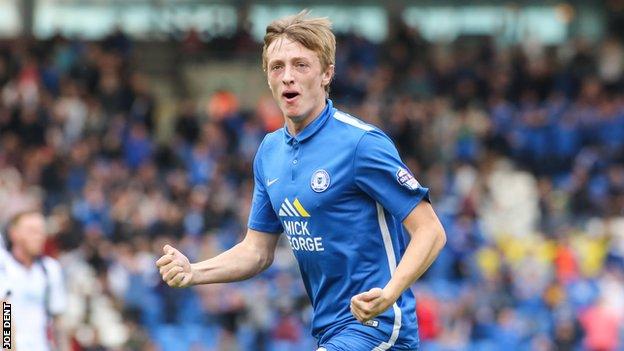 Peterborough midfielder Chris Forrester has the potential to be as good as England and Manchester United's Michael Carrick, says Posh boss Graham Westley.
The ex-Republic of Ireland Under-21 man, 22, has two goals in 13 games.
"There's so much Michael Carrick in him it's scary," said Westley.
"You look at the likes of Carrick, an intelligent player, reads the game brilliantly well, owns, keeps and passes the ball in the right way - he's got so many of the characteristics."
Westley added to BBC Radio Cambridgeshire: "Could you see him being even better? He probably gets more goals than Carrick - he's a great player in the making."
Carrick v Forrester

Michael Carrick (aged 34)

Chris Forrester (aged 22)

International caps:

33 England

International caps:

Two Republic of Ireland Under-21

Selected honours:

Five Premier League titles, One Champions League, One League Cup, Manchester United Players' Player of the Year 2012-13

Selected honours:

One League of Ireland title, One FAI Cup, Two St Patrick's Athletic Player of Year, 2012 PFAI Young Player of the Year
Forrester joined League One Posh from St Patrick's Athletic in August and has played in all eight matches since Westley replaced Dave Robertson as manager.
"You look at the stats from last weekend's game (against Doncaster), he was up near the 70-pass mark," said Westley.
"I think he's got a lot more in him as he learns the diamond shape and improves his physical condition he'll get on the ball even more.
"We've seen what he can do in terms of arriving in the box and scoring goals, we've seen his passing, he's such a composed individual, he's a cracking player."