Jose Mourinho: How Chelsea boss can put things right

By Danny Murphy
MOTD pundit
Last updated on .From the section Football

It is an absolute joke that Jose Mourinho is being talked about as being the next Premier League manager who could lose his job.
The success Mourinho has had, especially at Chelsea, means he has earned the right to have a bad three months without being sacked.
He should be allowed to have a poor six months or even a bad season, because everyone has them - even Sir Alex Ferguson did at Manchester United.
The fact people are now questioning Mourinho shows the way football is these days, compared to 20 years ago, but I just don't see that a change is needed for the club, the players, or the fans.
Lacking fitness, form... and good fortune?
What is wrong with Chelsea? First things first, they came back to pre-season a week later than their rivals and many of their players looked a little bit off the pace at the start of the season. Some of them still don't look fully fit now.
Then there is the loss of confidence that a few bad results can cause.
I've been there many times individually and collectively in my playing career and it tests you, whatever your level.
Another factor is luck. Having watched most of Chelsea's games this season, I've seen them be on the wrong end of some unfortunate, marginal and important decisions.
It sounds like an excuse, but I can understand why Gary Cahill spoke about them not having the rub of the green after their defeat at West Ham last week.
Along with a combination of all of the above, ultimately I think their horrendous run of results is down to too many players having a dip in form at the same time.
The quality is still there in their squad, and I know who I would want in charge to turn things around.
Why is Jose still the right man for the job?
What I don't see at Chelsea is a group of players who are not playing for the manager.
At West Ham on Saturday, they lost 2-1 but with 10 men they put in what was probably one of their best performances of the season. They should have beaten Stoke in the League Cup on Tuesday night too.
I've seen how a team plays when the players stop trying, and that is not what I see at Chelsea. Mourinho is right when he says the players are still with him.
Could Jose have behaved with a little more humility recently? Yes, but his spiky character is part of the reason people love him so much, and it is not a reason for his players' poor form.
When a team struggles, it is usually down to a few reasons rather than one glaring problem, and that is true of Chelsea now.
Are defensive changes a factor?
Even when Chelsea lost some of their attacking flair in the second half of last season, they could always rely on keeping teams out.
That has not been the case this season, but it is not the back four's fault that they are facing more shots and more shots on target - only Newcastle and Sunderland have allowed more this season - and conceding more goals and losing more games.
Chelsea's first 10 Premier League games (rank)

2014-15

Chelsea

2015-16

0 (1)

Defeats

5 (=14)

109 (6)

Shots faced

132 (12)

31 (3)

Shots faced on target

56 (18)

10 (=2)

Goals conceded

19 (=16)

1081km (11)

Distance covered

1077km (15)

4,891 (14)

Sprints

4,535 (16)
I am sure Mourinho would love to be able to play a settled back-line, like he did for the majority of last season with Thibaut Courtois in goal and Branislav Ivanovic, John Terry, Gary Cahill and Cesar Azpilicueta in front of him.
Together they started seven of Chelsea's first 10 games last season. This time, Mourinho has only been able to pick the same back five once in Chelsea's first 10 games, and they have conceded twice as many goals.
Ivanovic has really struggled at times and has made some costly errors at right-back but, other than that, I don't think Chelsea's defensive frailties are actually down to any issue with their back four, whoever is in it.
Chelsea's first 10 Premier League games (rank)

2014-15

Chelsea

2015-16

8 / 24 (1)

Wins / points

3 /11 (15)

5,435 (4)

Passes

5,098 (4)

85.19% (5)

Passing accuracy

81.99% (5)

55.62% (6)

Average possession

57.64% (4)

149 (4)

Total shots

143 (8)

60 (1)

Shots on target

42 (11)

26 (1)

Goals

15 (=7)
Time to take Fabregas out of the firing line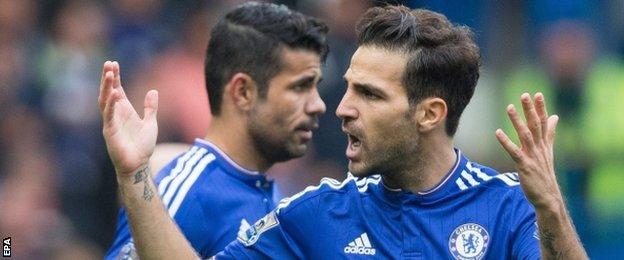 Your defence is only as good as the people in front of it, and this is where I think a lot of Chelsea's problems at the back stem from.
Nemanja Matic is one of their players who has not been at his best and he usually acts as the main protector.
When Cesc Fabregas has been asked to play alongside Matic, the Spaniard looks tired. He has never been the quickest or the most athletic but at least last season he was getting back into defensive positions.
I am not saying he is lazy and on average he is covering the same distance over 90 minutes but, physically, he does not look like the same player he was at the start of last season which might be why he has not been so effective.
Chelsea's first 10 Premier League games

2014-15

Cesc Fabregas

2015-16

10 / 891

Games / Minutes

10 / 824

1 / 9

Goals / Assists

0 / 1

31

Chances created

19

89.1%

Passing accuracy

82.8%

11.93km

Distance per game

11.75km

320

Sprints

301
Fabregas still sees passes that nobody else can but he has given the ball away more this season and I've seen him caught in possession lots of times too.
That has never been the case before, and it has seen him contribute a lot less going forward.
Mourinho shows an amazing amount of faith in his players, which is a positive thing, but I think it might be time to take Fabregas out of the firing line.
Costa short of sharpness but not belief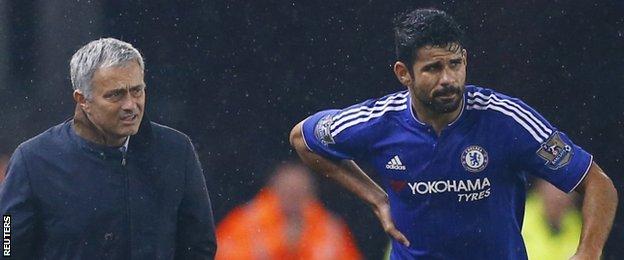 Like Fabregas, Diego Costa is another player who does not look like he is at the same physical level as he was last season.
As the centre-forward he is always going to benefit when the team is playing well and creating more chances, and so far this season he has had fewer opportunities - the whole team has had fewer shots, and fewer shots on target.
Costa's shooting accuracy is down too, not just his goal tally, and I think that is down to sharpness.
Chelsea's first 10 Premier League games

2014-15

Diego Costa

2015-16

8 / 667

Games / Minutes

8 / 700

9

Goals

2

19 / 16

Shots / On target

12 / 6

47.37%

Conversion rate

16.67%

68.15km

Distance covered

75.35km

443

Sprints

440
Mentally, I think he is very strong and a lack of confidence is not the problem here, or his basic fitness.
It is just that he needs to be at 100% to hit the heights he did last season and he has been closer to 70% in many of his recent games - but he will get better and sharper in front of goal the more he plays.
Hazard has not let his standards drop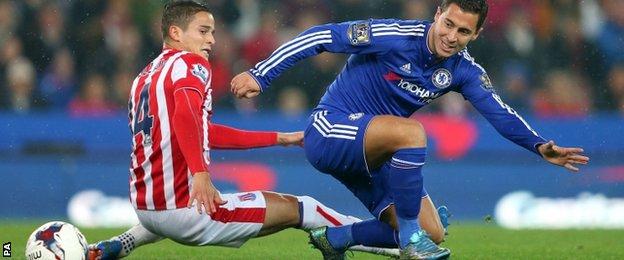 Not every Chelsea player is struggling, though. I keep hearing that Eden Hazard is not the same player he was but the only thing he is missing is goals. He is still creating chances, and it is not his fault that the team have not been taking them.
The numbers showing the running he has done are very similar to last season's, including high-intensity sprints, but he has made more chances than he had done at the same stage of 2014-15 and that alone means every other statistic is irrelevant.
Chelsea's first 10 Premier League games

2014-15

Eden Hazard

2015-16

10 / 859

Games / Minutes

10 / 817

3 / 1

Goals / Assists

0 / 2

12 / 8

Shots / On target

9 / 4

19

Chances created

29

95.78km

Distance covered

95.38km

544

Sprints

494
The games I have seen him in, he has still been demanding the ball, getting it and making things happen.
That is despite teams being ready for him this season. One important thing that people often forget to mention is that he was the PFA Player of the Year last season and opposition managers and players are not stupid - they know he is a threat.
So they set up a little differently for him now. I have seen teams double up on him and try to get Chelsea to play down the other side of the pitch. The aim is to isolate him, but it is not really working.
Hazard is not the issue at all - he is just looking less effective because the goals are not going in for the other players around him either.
Where Hazard led the way last season and how he compares in 2015-16

2014-15 (and rank)

2015-16 (and rank)

88 (1)

Chances created

29 (4)

254 (1)

Dribbles attempted

54 (5)

155 (1)

Dribbles completed

31 (2)

100 (1)

Fouls won

24 (=4)
When will this bad run end?
One big display can get an individual player back on track but I think it takes longer for a team to turn things around.
Chelsea do not just need a good performance and a positive result against Liverpool on Saturday, they need two or three more afterwards too.
Only then will their players start thinking 'we are back'.
There is no magic wand and Chelsea's bad run has already lasted longer than anyone expected but I am still confident that, in another couple of months, they will be back to the standards they were last season.
It is just a case then of whether the gap is too big for them to defend their title - but I still think they will finish in the top four.