Chelsea: Eva Carneiro 'seeks constructive dismissal claim'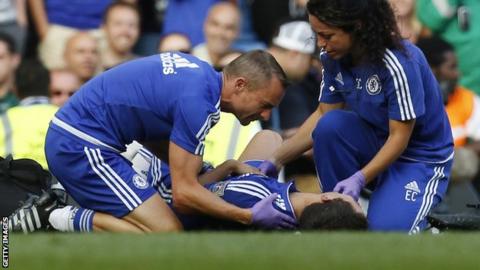 Former Chelsea doctor Eva Carneiro's lawyers have served notice of a claim of constructive dismissal against the club, the Press Association reports.
Legal papers have reportedly triggered a potential employment tribunal.
Carneiro was dropped from first-team duties after boss Jose Mourinho said she was "naive" for treating Eden Hazard during a draw with Swansea.
Mourinho's stance has drawn censure but he was cleared of using discriminatory language by the Football Association.
The governing body came to that conclusion after consulting a language expert, but their handling of the case has also been criticised by the Women in Football network group and FA independent director Heather Rabbatts.
The FA and Carneiro disagreed whether she was given a chance to contribute to the investigation, with the 42-year-old saying she was "at no stage requested by the FA to make a statement".
However, the FA said she was given an opportunity.
Chelsea have previously said they cannot comment on internal staffing matters and an employment tribunal hearing held in public could be potentially damaging for the club, who have also appealed against one of two separate FA charges relateing to Mourinho's conduct.
For that reason, cases such as this are usually settled beforehand.
The Press Association reports that Carneiro's lawyers served the papers this week after failing to agree a settlement with Chelsea. The three-month period in which a claim must be notified ends on 8 November.
The initial incident occurred on 8 August, the opening day of the Premier League season when Carneiro and head physio Jon Fearn rushed onto the pitch during the 2-2 draw with Swansea to treat midfielder Hazard.
Chelsea were already down to 10 men after goalkeeper Thibaut Courtois was sent off, and with Hazard having to leave the field after being treated despite appearing not to be badly injured, the team were temporarily reduced to nine men.