Peter Houston: Falkirk manager given touchline ban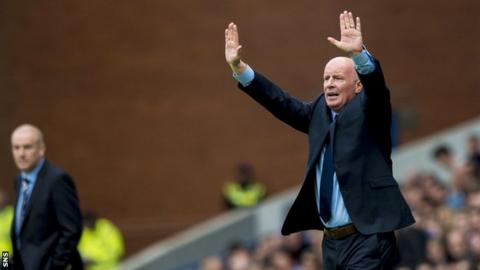 Falkirk manager Peter Houston has been given a one-match touchline ban after admitting criticising a referee following a defeat by Rangers.
Houston criticised John McKendrick in an interview on Falkirk TV after a 3-1 loss at Ibrox earlier this month.
The 57-year-old was unhappy with the award of a free-kick, from which Rangers scored their second goal.
The former Dundee United boss will be given further one-match ban in the event of another breach this season.
Detailing the disciplinary outcome on its website, the SFA said the disciplinary rule allegedly breached, number 72, had been amended.
"In that on 3rd October 2015, following on from the SPFL Championship match between Rangers and Falkirk, in an interview with Falkirk TV, you criticised the decisions and performance of the Match Officials in such a way as to indicate bias and incompetence on their part."