Neil McGuinness: Far-travelled Scot on scouting journey to Qatar

By Richard Wilson
BBC Scotland
Last updated on .From the section Football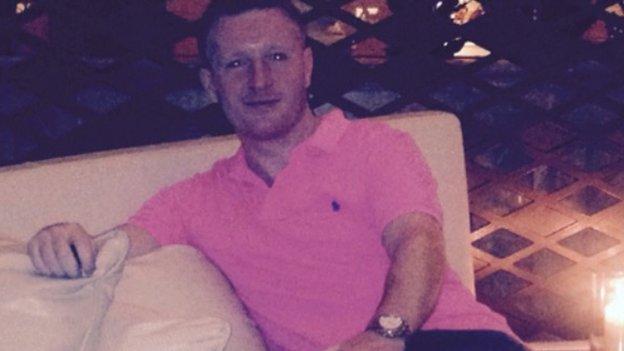 Obsession was at the root of Neil McGuinness's journey into professional football.
As a teenager, his Saturday shopping trips into Glasgow saw him visiting market stalls to buy video tapes of matches from leagues all over the world, while his friends spent their money on music.
He was already lost to the game at an earlier age. McGuinness was only a young boy when Scotland's under-16 team reached the Youth World Cup final at Hampden, where they lost to Saudi Arabia, but he was fascinated by the different styles of the competing nations in the group games he attended.
His passion and curiosity have carried him to Qatar, via a productive spell at Celtic where he was involved in the identification of signings like Virgil van Dijk and Stefan Johansen.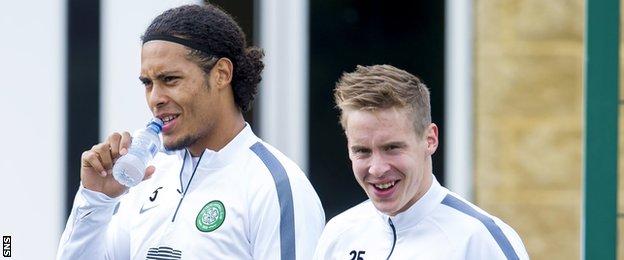 McGuinness is now one of the scouts at the Aspire Academy tasked with identifying and monitoring players who have the talent and ability to establish themselves as internationals in time for the country's hosting of the World Cup finals in 2022.
A head start on the internet
"I'd been doing freelance scouting since I was 13, 14; creating custom databases, watching a lot of football from all over the world," McGuinness explained.
"It was always my interest to watch games outwith the British game - in South America, Italy, France, Spain, as well as watching the Scottish stuff.
"The first time I started putting stuff down on paper was when Scotland played in the Under-16 World Cup, I'd have been about eight or nine, and I went to almost every group game and I was watching all these different nations with different styles than what I was used to with Scotland.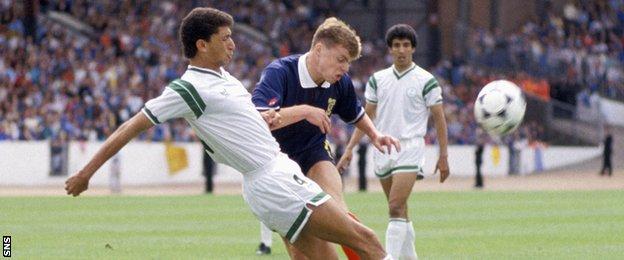 "I was working mainly off video. At the weekend, we used to go into Glasgow and there were various little stalls around about the Barras market that sold foreign football.
"You could buy tapes of football from all over the world and I used to go in at the weekend while my friends were buying music. This was before the internet and before the European game was really discussed. Then TV started to bring them in and I was getting more access to it, I just had a head start.
"From there, it just developed into something that has become a career, and a bit of an obsession. You start studying everything you can, learning about how leagues work, agencies work, behind the scenes.
"I had an IT background and at the same time I was speaking to Celtic, providing reports, and a role opened up. That's how I went directly into doing first-team work, because I'd been providing reports already."
Qatar comes calling
McGuinness spent six years at Celtic, and there is a sense, as he talks through his career so far, of the hunger for knowledge and the dedication it has taken to mould that into a career.
When the decision was made to leave Celtic, McGuinness weighed up the offer from Qatar - a seven-year project to build a team for the World Cup finals, working alongside staff drawn from across Europe - and decided that there was too much to learn to move to a shorter-term job in England.
The role is challenging, not least because the sport is still developing in a country that has not traditionally been a football nation.
Investment and ambition underpin the purpose of the Aspire Academy, and high-profile players in the closing stages of their careers, like Al Sadd's former Spain and Barcelona midfielder Xavi, have found Qatar a welcome final staging post.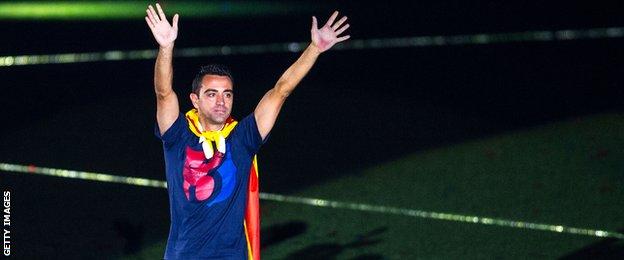 The drive, though, is to widen the game's appeal and produce a team that can compete at the 2022 finals.
"Qatar is a small nation, so it's not easy to find the next level of players," McGuinness said. "Their football is very far behind but bit by bit we're trying to pick up what's out there and mould them into proper national team.
"The league's still in its infancy, but the standard is getting better and better. Guys like Xavi coming over is only going to improve the standard, the lads are beginning to look like a capable standard and they're trying to build it up to European level.
"The staff who have been brought in are all very experienced and from different backgrounds: Spain, Portugal, France. It's out of my comfort zone but working with so many people from different nationalities helps your overall understanding of the game."
'It's down to the naked eye'
McGuinness can mix within the extensive ex-pat community and he remains connected with the Scottish game and his contacts throughout Europe.
There is, ultimately, an ambition to progress to a chief scout role at a club but he remains "happy" in Qatar.
There is, too, an understanding of the changing nature of scouting, with technology providing an additional tool in the identification and assessment of players.
"In my time, I've noticed a huge push towards data analysis," he added. "You can get information on everything from ground covered, to tackles made, to heart-rate.
"Even before you watch a player you can look back on every game he's played and use the video analysis software to make a custom video report. But there is still a huge need for watching the player live, having your own opinion and speaking to people within the game about him.
"There have been times when I've watched a player on video, spoken to the management staff, they've watched the video, everyone's been happy, then seen him live and within five minutes know that he will never play for us.
"It's down to the naked eye, that's the only way you can make a proper decision."