Portland Timbers beat Sporting Kansas in MLS Cup shootout
Last updated on .From the section Football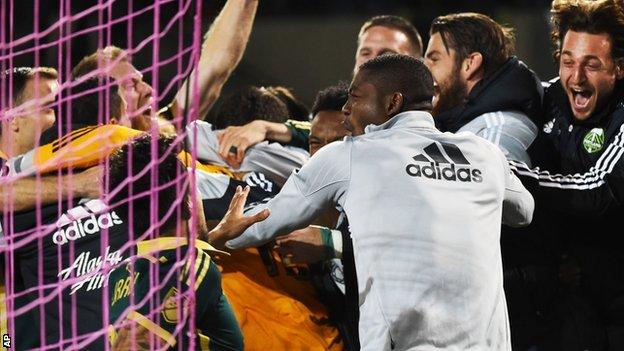 Extra time, 22 penalties - one of which struck both posts - and then the goalkeeper wins it. Some game.
Throw in a chainsaw-wielding mascot and the fact this was a play-off game and you can see why Portland Timbers were the talk of social media on Friday morning.
In the two hours or so from 03:00 GMT, the term 'timbers' was the subject of about 8,100 tweets.

The MLS outfit, trailing 2-1 in extra time against Sporting Kansas City, levelled with two minutes to spare, prompting spot-kicks.
Both sides had spent all season qualifying for the fixture - with the chance to reach the last eight of the MLS play-offs on offer - so a bit of bad luck at such a crucial time was not what either set of players were looking for.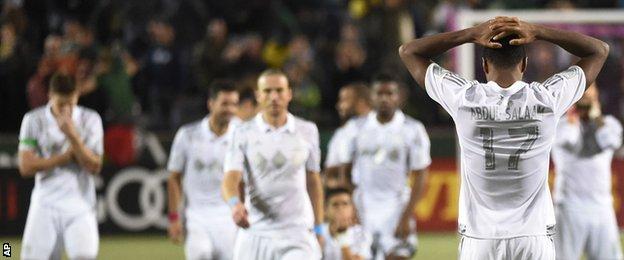 Step forward Sporting's Saad Abdul-Salaam, who could have secured a 6-5 shootout win - instead his effort struck one post and rolled agonisingly across the goalline to hit the other upright.
His narrowest of misses sparked wild Portland celebrations and the home crowd were lifted again as goalkeeper Adam Kawarasey slammed in a kick before saving the 22nd effort of the shootout - from his opposite number - to send his team through.
The Timbers face Vancouver Whitecaps next. The Canadian side would be wise to practise penalties.