Glasgow City finish league campaign with 10-0 win
Last updated on .From the section Women's Football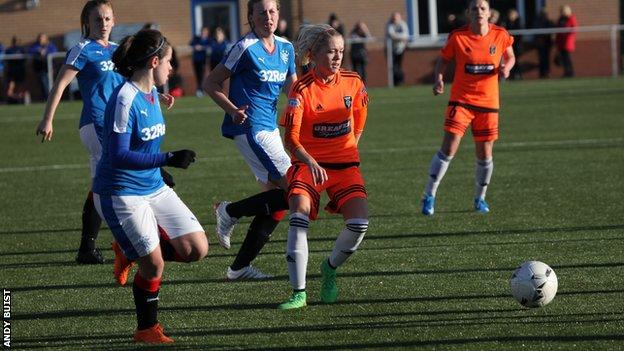 Scottish Women's Premier League champions Glasgow City ended the league campaign with a 10-0 win over Rangers.
City can now look ahead to next weekend's Scottish Cup final against Hibernian Ladies at Ainslie Park.
Head coach Scott Booth said: "Now we can properly focus on the cup final and hopefully go out in style."
City finished the season six points clear of runners-up Hibernian, who finished off the league campaign with a 4-1 win over Edinburgh rivals Spartans.
Elsewhere, a 96th-minute penalty earned Celtic a draw against Aberdeen, who thought they had won the game with a goal from Nikki Smith five minutes from time.
Tori Sousa's double won the points for Forfar Farmington away to Stirling University, while Hutchison Vale fought back from two goals down twice in a 4-4 draw with Hearts, and Hamilton defeated Inverness City 3-1.