Garth Crooks' team of the week: Coutinho, Vardy, Barkley, Butland

By Garth Crooks
Football analyst
Last updated on .From the section Football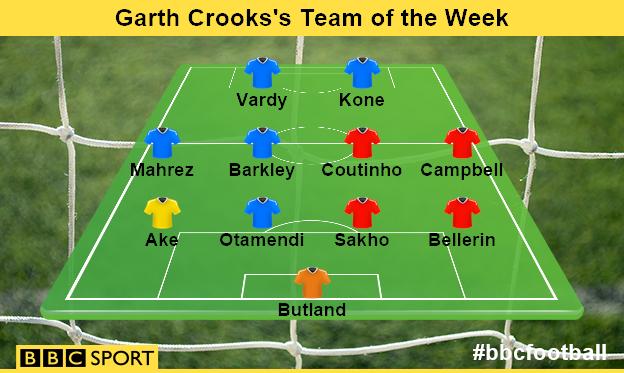 Another defeat for reigning champions Chelsea has been the story of an exciting Premier League weekend.
And the Blues' home defeat by Liverpool, which heaped more pressure on manager Jose Mourinho, leaves them just above the relegation zone.
Manchester City still lead the way after a late win against Norwich, while Arsenal kept up the pressure with a ruthless victory at Swansea.
Leicester remain third after beating West Brom, while none of the bottom nine teams managed to earn a precious win.
But who were the standout performers? Here are my selections.
Goalkeeper - Jack Butland (Stoke)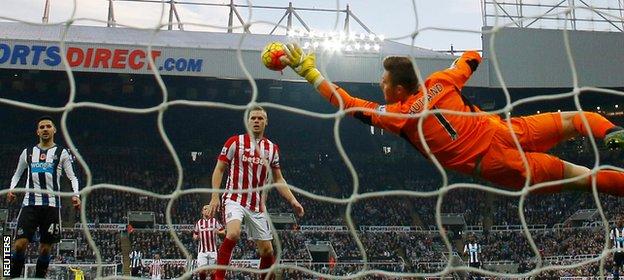 My BBC colleague Jermaine Jenas suggested on Match of the Day that Stoke goalkeeper Jack Butland had a shaky start to the season. I think JJ might be associating Stoke's poor start to the season with Butland's performances.
The England international has been absolutely brilliant this season and has stopped Stoke from taking a mauling on a few occasions. He was in superb form again in the 0-0 draw at Newcastle and is the only reason Stoke came away with a point. It's really important that when your keeper plays as well as Butland your strikers do their job and get among the goals. Otherwise, what's the point?
Defender - Hector Bellerin (Arsenal)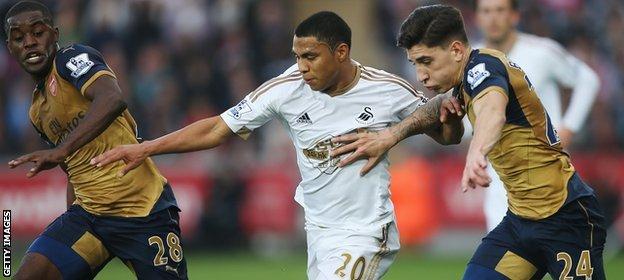 This was another solid performance by the Arsenal right-back away from home.
At Swansea, Spanish youngster Hector Bellerin had Joel Campbell playing in front of him for the first time and the Costa Rican proved a very willing worker. The two linked up very effectively down Arsenal's right-hand side. In fact, there was a moment in the game where Campbell tried to play Bellerin in on goal but unfortunately for the full-back the ball was intercepted. Bellerin and Campbell look like they have the makings of a useful partnership.
Defender - Mamadou Sakho (Liverpool)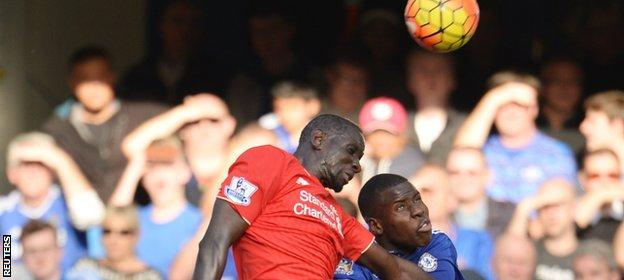 Can someone please tell me what has got into Mamadou Sakho in these past few games? The Liverpool centre-back is playing like a man possessed. He battles for every ball as though his life depends on it.
Yet it was the quality of his distribution that startled me. It happened in the first half when he hit a wonderful Steven Gerrard-esque 40-yard diagonal pass for Nathaniel Clyne and he did it again in the second half. This time it was destined for Christian Benteke to attack and set up Philippe Coutinho's second goal.
I said last week that Sakho might be surplus to requirements once Jurgen Klopp gets his chequebook out in the transfer window. But the way Sakho's playing the new boss might start building his team around the France international.
Defender - Nicolas Otamendi (Manchester City)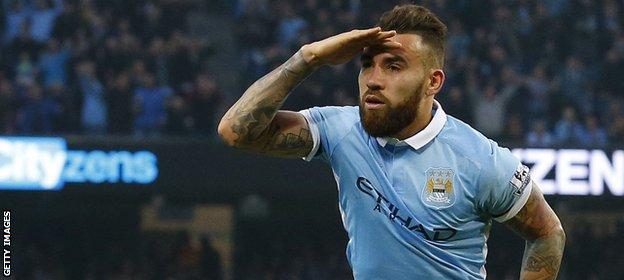 What a great header by the Argentine from a corner to set City on their way to another home win. The speed in which Nicolas Otamendi has acclimatised to the rigours of the Premier League and settled into the City set-up has been quite remarkable and a testimony to the lad's ability.
City will only play 'attractive football' under Manuel Pellegrini's tutelage, and not the uninspiring garbage currently dished out by Manchester United's Louis van Gaal at the moment. You won't get City fans chanting in desperation "attack, attack, attack" under Pellegrini.
Defender - Nathan Ake (Watford)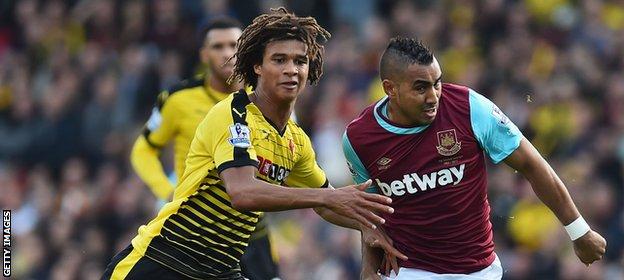 I saw a lot of Nathan Ake at Chelsea and I think he's a very capable footballer. The on-loan defender made the right decision in joining Watford - he stopped waiting for the odd game at Stamford Bridge and moved on with his career. In all honesty he could do a lot worse than stay at Vicarage Road permanently where he's getting regular first-team action and is developing fast.
The Dutch youngster nearly scored from a corner that he had won in the 2-0 victory against West Ham and was never afraid to get among the action. In fact it was Ake who also started the move that ended with West Ham's James Collins making a frankly shocking tackle on Odion Igahlo, one that fully deserved the red card.
Midfielder - Joel Campbell (Arsenal)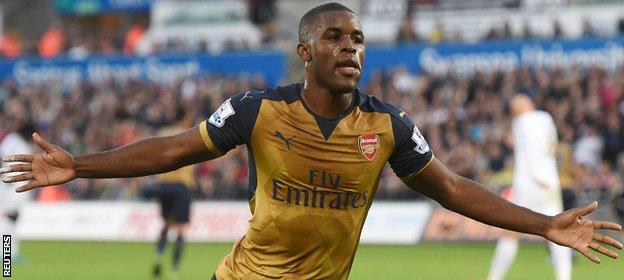 I saw this lad to play for Costa Rica in the World Cup and he did well. I couldn't understand why Arsene Wenger hadn't given him a run of games to prove himself in the Premier League. He's had the fleeting appearance here and there but nothing substantial. He seems to be a natural finisher, composed on the ball and not overawed by the occasion.
For Arsene Wenger to announce to the world, 'it's now or never' for Campbell, shows an overwhelming scepticism from the Arsenal manager. Perhaps after such an impressive performance against the Swans, Wenger might ignore the overtures from some of his more established stars, some of whom appear physically fragile and who keep breaking down because of injury, and give Campbell an extended run. There is no reason why this arrangement could not work for Campbell and Wenger.
Midfielder - Ross Barkley (Everton)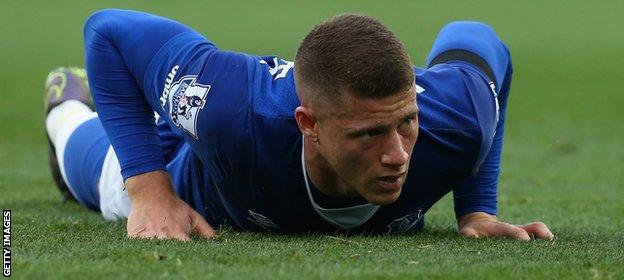 I've said it before and I will say it again - Ross Barkley has the talent to be as good as he wants to be.
In the 6-2 win against Sunderland it was easy for him and he was keen to show it. However, if he's serious about following in the footsteps of Peter Reid and other great Everton midfielders then he must perform like this in more difficult circumstances. What a pity he didn't show the same desire to compete with the likes of Herrera, Schneiderlin and Mata against Manchester United. I would really like to see young Barkley stretch himself and do it against the top teams. He's certainly got what it takes.
Midfielder - Philippe Coutinho (Liverpool)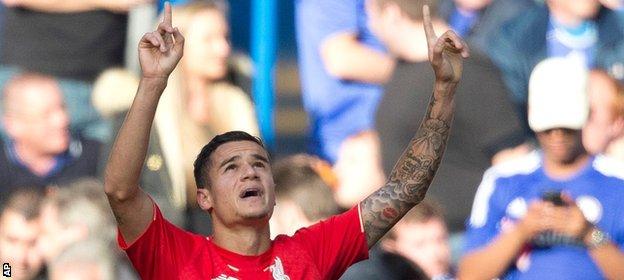 Is Philippe Coutinho incapable of scoring a simple goal or do they all have to be spectacular? The Brazilian's ability to manipulate the ball on the edge of Chelsea's penalty area and then neutralise their entire defensive system was remarkable.
OK, his second goal took the slightest deflection on its way past Begovic but the move leading to the finish was so brilliantly carved out by Liverpool and so beautifully executed by Coutinho the strike deserved a little luck. Chelsea have now lost three games in a week - including the penalty shootout defeat at Stoke - and Jose Mourinho just doesn't look special anymore. I do admit it's much easier to look special when you're winning.
Midfielder - Riyad Mahrez (Leicester)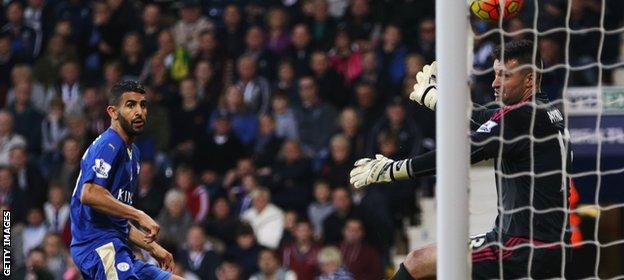 I suppose if you are going to be ghosting in from either side of the pitch to score two brilliantly taken goals you might as well do it on Halloween weekend. Mahrez was reminiscent of former West Ham, Spurs and Norwich player Martin Peters at his best the way he floated in on West Brom's blind side.
I can't think of better days than these for Leicester City. They have scored 23 Premier League goals this season already and Mahrez and Vardy have netted 18 of them, putting the club third in the Premier League table. Hardly surprising then that manager Claudio Ranieri considers himself to be a very lucky man to be experiencing this extraordinary period in the club's history. He's certainly got that right. Because it was Nigel Pearson who created the team, developed it and breathed life into it before being unceremoniously sacked for reasons I still can't quite understand.
Forward - Jamie Vardy (Leicester)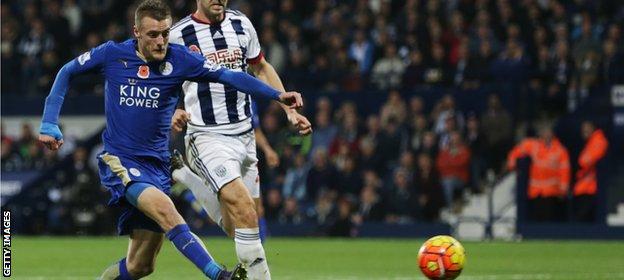 What a great touch and fabulous movement by Vardy to score for the eighth consecutive league game. There are very few centre forwards who can make their own goals but Vardy can. His blistering pace allows him to get away from defenders if the set-up play is right. Such was the case against West Brom when the England striker ripped the heart out of the Baggies with an emphatic finish.
That brings me to England's next international fixture and the necessity for Roy Hodgson to play Vardy up front and Rooney just behind. A move that will bring the best out of both players and a point that appears to have been lost on United boss Van Gaal, who still seems to think that Rooney is a dedicated centre forward.
Forward - Arouna Kone (Everton)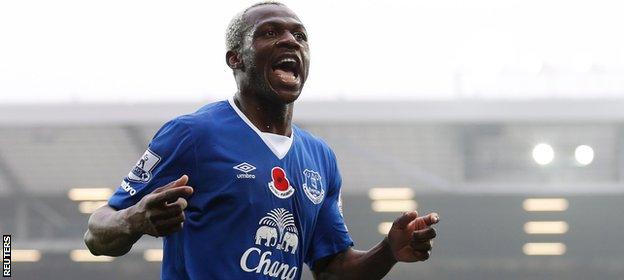 Everton haven't scored six goals in a single match for eight years so when the avalanche of chances came against Sunderland on Sunday it needed someone with a sharp eye and a lethal finish to take full advantage of the situation.
Arouna Kone was that man but not without the influence of Barkley and Romelu Lukaku. Whenever these three players are on-song for Everton, and at the same time, you can almost guarantee an exceptional performance from the Toffees. It just doesn't happen often enough.