Remi Garde: Aston Villa make 'logical and imaginative appointment'

By Andy Brassell
European football writer
Last updated on .From the section European Football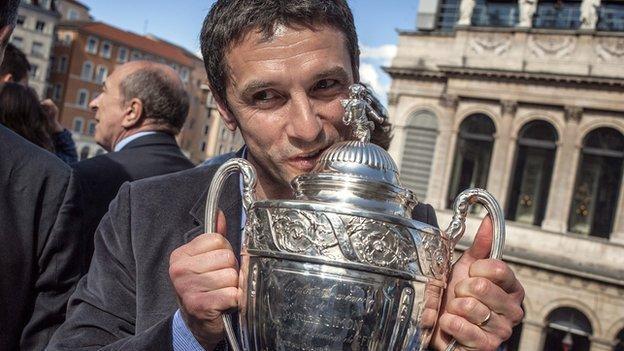 "Let's hope he speaks as good English as he does French." There was something very telling about the words of Aston Villa captain Micah Richards as he contemplated working under new coach Remi Garde.
The new man will respond to the media's demands in perfect English, a legacy of three years spent at Arsenal as a player. Garde and Patrick Vieira were Arsene Wenger's first two signings for the club, arriving on the same day in mid-August 1996.
Yet Richards simply echoed the feelings of many others. Despite being a Premier League winner, Garde is far from a household name in England, having started only 28 times during his spell in London. He is well respected in the game, however - not least by his mentor Wenger - and Villa fans can expect a studious man who arrives refreshed and ready for the challenge before him.
Why Garde is so highly rated in France
Garde was long feted for the top job at Lyon, having been Gerard Houllier's assistant at the French club.
He was assistant between 2005 and 2007 and when former Liverpool boss Houllier moved on, the club offered him the post. Garde, however, declined, not feeling ready for it. He is not a man to leap before he looks.
China head coach Alain Perrin and Nice manager Claude Puel both had spells in charge before Garde eventually took the top job in June 2011, a position he held until the end of the 2013-14 season.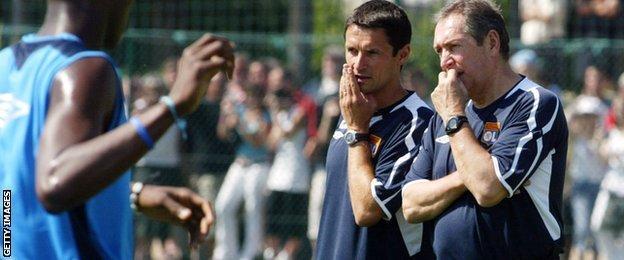 Lyon finished fourth, third and fifth in Ligue 1 under Garde and won the French Cup in 2012, but his importance is much more profound than league positions.
Having lost their way after seven successive title wins between 2002 and 2008, Garde's reign helped to drastically bring down the wage bill and introduce a new, young, motivated playing staff which are largely home grown.
Last season's Ligue 1 runners-up typically include up to eight graduates from their Tola Vologe academy in their starting XI, including Alexandre Lacazette, Samuel Umtiti and Anthony Lopes.
It is no exaggeration to say Lyon's side would look very different had Garde never been there. His confidence in youth was borne of knowledge, having been academy director before being appointed as head coach of the first team.
It was a perfect storm for the club's management, with Lyon suffering financially after years of wild spending under Garde's predecessor Puel.
So while a raft of top stars including Hugo Lloris, Lisandro Lopez and Michel Bastos were sold, Garde promoted youngsters. For example, after Lisandro left, the coach moved Lacazette from the wing back to his youth team position of centre-forward, beginning his journey to becoming last season's Ligue 1 leading scorer and player of the year.
Who is Remi Garde?
Former France international defensive midfielder
Played for Lyon (1987-1993), Strasbourg (1993-1996) and Arsenal (1996-1999). He won the Premier League with the latter in the 1997-98 season
Forced to retire with knee problems in 1999
Coached under Gerard Houllier at Lyon
Became Lyon manager in 2011. Reached two French League Cup finals, the Champions League last 16 and the Europa League quarter-finals
Left Lyon at the end of the 2013-14 season for personal and family reasons
Garde quit Lyon against the club's and his players' wishes, citing personal reasons, but he now appears to be renewed and refreshed.
Many wondered if Lyon's refusal to let assistants Bruno Genesio and Gerald Baticle even speak to Garde about joining him would put the 49-year-old off moving to Birmingham.
Instead, he will bring former Bastia assistant Reginald Ray with him. The pair know each other well, having studied for their Uefa Pro Licence together - and might try again for Genesio at the end of the season.
"That Garde has accepted this mission in England without being able to surround himself with his habitual confidantes tells us how deeply motivated he is," wrote Bernard Lions in Monday's edition of L'Equipe,
The Wenger connection
The closeness between Garde and Wenger was manifest from the beginning, but their relationship was very different from the one between Vieira and the boss. While Vieira became an Arsenal beacon on the pitch, Garde's role was much more as a facilitator.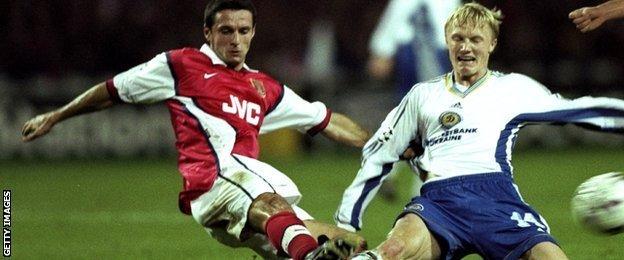 Some of the Arsenal players initially thought that Garde was a member of the coaching staff himself, given the frequency with which he was locked deep in conversation with Wenger after training in the Frenchman's early days at the club.
One member of the squad, Adrian Clarke, told me that Garde acted as a bridge between management and a group of players trying to absorb the new regime's ideas.
"It was almost as if he was there to teach the rest of us what Wenger wanted in terms of his passing, movement and attitude," Clarke said in 2011.
Remi Garde - The new Wenger?
"He has the same profile as Wenger and he can do the same job. When I was in France and with him, you can feel this, the same kind of coaching."
- Jeremy Berthod - Former Lyon footballer (played under Garde)
"It's a true comparison (between Garde and Wenger) because I think that Remi is very inspired by what Arsene did with Arsenal and is still doing. He tried to play proper football. It's important for Remi to make a lot of passes."
- Romarin Billong - Former Lyon footballer (played with Garde)
Listen to the interviews on BBC World Service Radio here.
Garde and Wenger had plenty in common. Much like Garde, Wenger had been involved with great teams rather than being an active participant, as a fringe player in Strasbourg's 1979 French title win. Wenger never stopped tracking his protege's progress, either, and is an admirer of Garde's work at Lyon.
"He did a great job," Wenger told me at a press conference back in July. "He was in the academy first. That's why he knew these players very well. Lyon benefits now from the quality of his work. It was a job where he was under a lot of pressure because in Lyon the demands are very high, but he did very well."
Dealing with Villa's current situation
Clearly Garde is taking on a very different situation to the one which he inherited at Lyon in one sense, with Villa rock bottom as opposed to being Champions League habituals. However, it is similar in the sense that it involves fire fighting. While Lyon were haemorrhaging money and players, Villa are seeing Premier League points slip through their fingers at an alarming rate.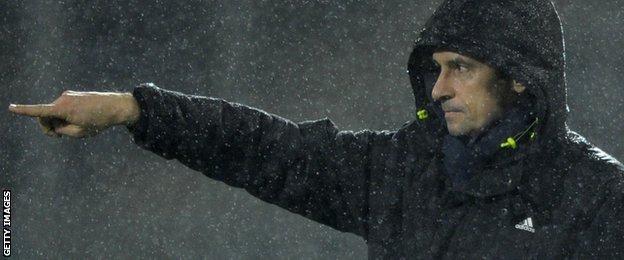 The most immediate benefit that Villa can expect is clearly Garde's expertise in dealing with young players. Richards' press conference response was based on the theory that a common language would be useful in getting through to the three Jordans who signed in the summer - Veretout, Amavi and Ayew.
In reality, this is less important than Garde's ability to make young players feel empowered and take responsibility for their own development.
He creates the environment in which players can express themselves, and favours attacking, possession-based football. It will be interesting to see if he reprises the 4-4-2 formation which got the most out of talent like Lacazette and playmaker Clement Grenier at Lyon.
Garde is no soft touch, and places high demands on his players, but is very protective of them in return. This correspondent has rarely seen him as angry as after a match against Lorient in 2012 when Grenier was booed by home fans.
Garde mounted a stirring defence of the midfielder, and was rewarded with the form that took Grenier into the France 2014 World Cup squad.
The appointment of Garde is only as much as a gamble as any managerial choice. In terms of his personality, his drive and his record working with young talent, it is as logical as it is imaginative.