David Flitcroft: Bury boss says fine start down to hard work
Last updated on .From the section Football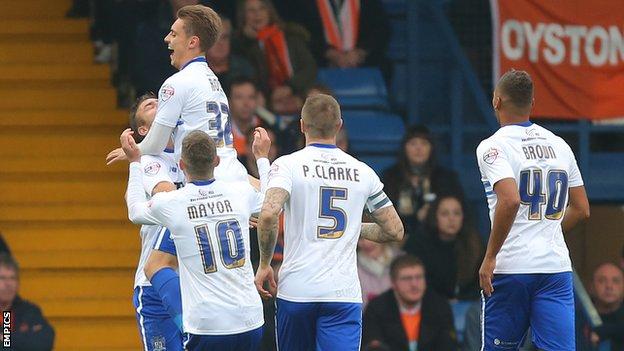 Bury's fine start to the season is down to hard graft and not financial clout, insists Shakers boss David Flitcroft.
After their promotion from League Two last season, Bury brought in players such as Leon Clarke, Danny Pugh and, most recently, Chris Eagles who have all played at a higher level.
Bury are sixth in League One after Saturday's 4-3 win over Blackpool.
"My budget is in the bottom four of this league and that is a fact," Flitcroft told BBC Radio Manchester.
"That's off the Football League, that's what Financial Fair Play tells you the lists are out there, you can find them and that is where my budget is.
"It's £100,000 more than it was last season, that's what I've had to spend."

Bury were taken over in May 2013 by a consortium led by Stewart Day and a few months later said they had put in £1.5m because of the financial troubles previously.
Before the takeover, the Shakers had two transfer embargoes and described their financial situation as "critical."
"The lazy people out there, the lazy reporters and the lazy managers will say 'they just get the credit card out,' it's not the case," added Flitcroft.
"We work harder than any other club, that's what I do know.
"We get results because we graft, not because of what money we pay. Chris Eagles has come here for absolutely no money whatsoever and he wants to make a difference to himself and prove he can be a top, top performer again.
"I think it's about time people started understanding where we're at instead of making things up."