Stoke City: Peter Crouch still hopes to have future with Potters
Last updated on .From the section Football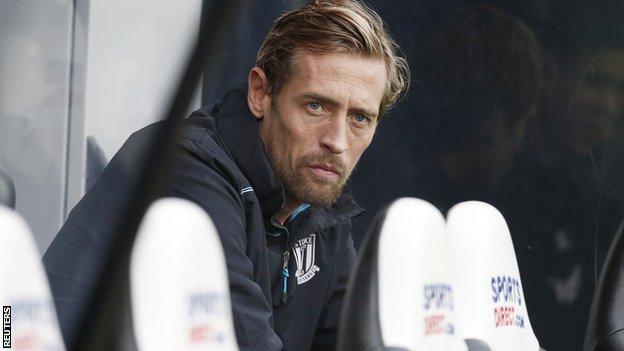 Stoke City striker Peter Crouch insists that he still has a future with the Premier League club, despite being largely underused so far this season.
The 34-year-old former England international has managed just 45 minutes of league action in three substitute appearances.
"Ideally, I want to force my way back in and play in a few more games," Crouch told BBC Radio Stoke.
"But I enjoy playing for this club and it's a good place to be right now."
Crouch has seen a few benches in his eight-club career, 147 of his 614 appearances over his 15 seasons in the game having come as a sub.
Potters hot on the road
Mark Hughes' Stoke City are 14th in the Premier League, largely on the back of an excellent away record, which has seen them lose just once - at Arsenal - this season in eight league and cup matches.
But he is frustrated that he has only been able to add one goal this season to his career tally which now stands at 182, in the League Cup third round win at Fulham in September.
"I want to be playing," added Crouch, who netted 22 times in 42 games for England. "All I can do, when given the opportunity, is to try to take it.
"Sometimes it can be frustrating and I have dialogue with the manager. But every player goes though it. We've signed some fantastic players this summer and there's lots of players wanting to get back in."
Crouch, who was Stoke's then record £10m buy when Tony Pulis signed him in 2011, agreed a new contract in January, tying him to the Potters until the end of the 2016-17 season.
The deal came shortly after reports that former boss Pulis was trying to take him to West Bromwich Albion.
Peter Crouch was talking to BBC Radio Stoke's Lee Blakeman.
Peter Crouch's career record

Club

Fee

Signed by

Record

Tottenham Hotspur

Trainee

George Graham

Aug 1998-July 2000

QPR

£60,000

Gerry Francis

July 2000-July 2001:

12 goals

in 42 (5) games

Portsmouth

£1.5 million

Graham Rix

July 2001-March 2002:

19 goals

in 39 games

Aston Villa

£5 million

Graham Taylor

March 2002-July 2004:

6 goals

in 25 (18) games

Norwich City

Loan

Nigel Worthington

Sept 2003-Dec 2003:

4 goals

in 14 (1) games

Southampton

£2 million

Paul Sturrock

July 2004-July 2005:

16 goals

in 24 (9) games

Liverpool

£7 million

Rafa Benitez

July 2005-July 2008:

42 goals

in 93 (41) games

Portsmouth

£9 million

Harry Redknapp

July 2008-July 2009:

16 goals

in 48 (1) games

Tottenham Hotspur

£9 million

Harry Redknapp

July 2009-Aug 2011:

24 goals

in 60 (34) games

Stoke City

£10 million (rising to £12m)

Tony Pulis

Aug 2011-

43 goals

in 122 (38) games