Jose Mourinho: Chelsea manager denies dressing room revolt
Last updated on .From the section Football
Chelsea manager Jose Mourinho has rejected claims that there is a player revolt at the club.
Chelsea are 15th in the table, having lost six of their first 11 league matches this season.
"It's a very sad accusation because you are accusing a player, or more than one player, of dishonesty," said Mourinho.
Speaking at a news conference, he added: "It is a question for the players. If I accuse you to be a dishonest journalist, you would be very upset and probably would take legal action."
Mourinho said the players had responded to defeat against Liverpool on Saturday "by giving their best every minute of every training session" and "by showing solidarity" through a "fantastic personal and professional relationship".
'Rather lose than win?'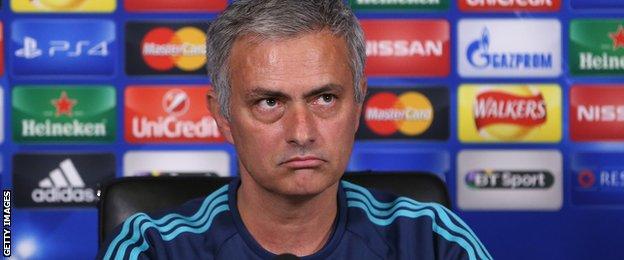 When asked if it was true that a Chelsea first-team player had said he would "rather lose than win" for Mourinho, as reported by BBC Radio 5 live's Garry Richardson on Sunday, Blues skipper John Terry said "in my whole football career I've never heard a player come out with those words".
At the same news conference as Mourinho, he added: "If players heard that among ourselves it wouldn't go down well.
"I can assure you the players are 100% behind the manager.
"We are together, anyone who has been at the last four of five games can see we have been extremely unlucky. We will turn things around. We stay together."
Chelsea, who lost just three league games last season, are 14 points behind leaders Manchester City.
They are third in their Champions League group and host Dynamo Kiev at Stamford Bridge on Wednesday, before travelling to Stoke in the league on Saturday.
Former Chelsea player Graeme Le Saux told BBC Sport the players are "not responding" to Mourinho's "damaging" behaviour.
"All the evidence suggests that the situation is irretrievable," he said.
Mourinho blamed "a combination of factors" for his side's poor form this season, which also saw the holders eliminated from the League Cup at Stoke last week.
Asked about the difference in form, he said: "I know why. I would be here for a long time to explain. Some of them I don't want to touch. But, yes, I know. Everything is football-related."
When asked if he was taking "too many bullets for the players", he said: "For my players I do everything, I am not going to change."
'Mourinho will still be at Chelsea after I'm finished'
Terry, 34, said Mourinho will be in charge at Chelsea "for the rest of the season and long after I have finished because he is the best man to take the club forward".
The Chelsea skipper said Mourinho was under pressure "because of the way we are performing".
He added: "Collectively we know we need to be better for him.
"It is unfair he takes the criticism. We are prepared to fight and anyone who has been at the games can see that.
"In all aspects he is by far - a long, long way - the best manager I have worked with. We are going to turn this round."
Terry acknowledged his own form was below normal standards, saying: "I can be better personally for sure. I need to be back up to where I was last season.
"I have come under criticism from players I have looked up to and take it on the chin. Rio Ferdinand, Jamie Carragher, Gary Neville, etc. When certain other people speak, maybe I don't listen to players who have played at a really bad level, who haven't had a career.
"Robbie Savage being one. He has dug me out a couple of times. You take it as a footballer, as an individual. I'll take it from the Rios, Carraghers and Neville. All day long. From others? No."
Mourinho on his recent behaviour
When asked if he had handled Chelsea's recent slump in form in a dignified fashion, Mourinho said: "The way I am going to show my dignity is not to answer you."
The Portuguese referenced a news conference he gave after leading Porto to Champions League success in May 2004, saying he foresaw the day when he would be under such pressure.
"Back then I said that one day in my career bad results will come and I will face the bad results with the same honesty and dignity that I am facing now," he said.
"May 2004 I said that. So 11 years later I resisted well to the nature of my job, to the nature of football.
"It took time but this is the moment - I am stable and strong to face it."
Mourinho was given a one-match stadium ban on Monday and fined £40,000 by the Football Association after admitting a misconduct charge over his behaviour in the defeat by West Ham on 24 October.
He will miss the game at Stoke on Saturday unless he appeals against the ban.
The punishment is separate to the suspended ban he received along with a £50,000 fine for comments after the loss to Southampton on 3 October.
The Dr Carneiro question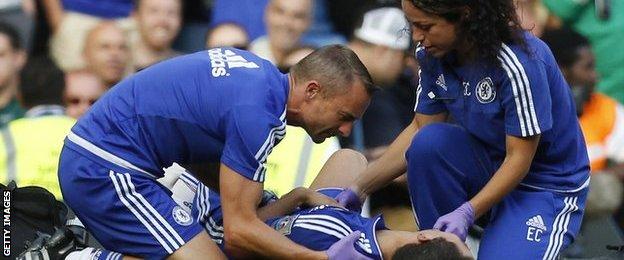 Mourinho is the subject of individual legal action from former Chelsea doctor Eva Carneiro, who is also suing the club for constructive dismissal.
When Terry was asked whether the players were upset at how Dr Carneiro was treated before she left the club, a Chelsea press officer stepped in and said the matter could not be discussed because legal proceedings were active.
The individual legal claim against Mourinho of victimisation and discrimination means Dr Carneiro's lawyers are alleging he was instrumental in her apparent demotion.
She was demoted from first-team duties after Mourinho said she was "naive" for treating Eden Hazard during a 2-2 draw with Swansea in August when Chelsea were already down to 10 men after goalkeeper Thibaut Courtois was sent off.
Hazard had to leave the field after being treated despite appearing not to be badly injured, reducing Chelsea temporarily to nine men.