Alan Knill: Northampton Town sold to signings as 'stable club'
Last updated on .From the section Football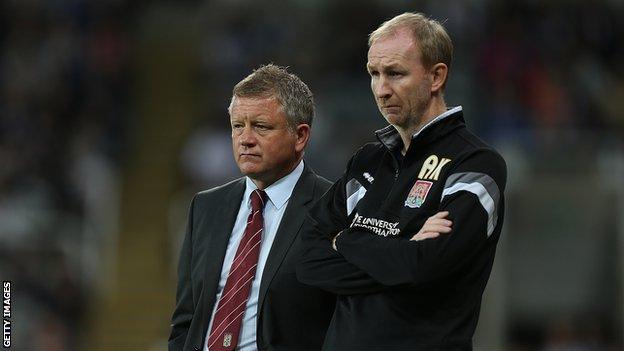 Northampton assistant boss Alan Knill believes his credibility may have been damaged after telling prospective signings they were "a stable club".
"It's funny because when we spoke to players in the summer - we're selling the club as a stable club," said Knill.
"Four months down the line things happen - you can't do anything about it. We sold this club with sincerity and find ourselves in this position."
He told BBC Radio Northampton: "It's not ideal, but we're no different to steelworkers or whatever, something happens and you just get on with it.
"It's easy to throw in the towel, but we're trying to be professional. You do your job the best you can even though you don't get paid.
"I don't think we're any different to anyone that earns a working wage. You work for that wage."
The League Two club's bank account was frozen last week, and they owe Northampton Borough Council £10.25m and also face a winding-up petition from HM Revenue & Customs over £166,000.
The council loan was to have been used to redevelop the club's Sixfields ground, including the building of the new East Stand along with a hotel and conference centre, none of which has been completed.
An Indian consortium pulled out of a planned buy-out of current owner David Cardoza, former Oxford chairman Kelvin Thomas has "agreed a deal in principle for the purchase".
Knill said he was in the dark about the problems in the summer.
"I'm quite sure that everything was fine, the stand was going ahead and there was none of this talk, so we all went in with it and said all the right things and believed them," he added.
"We're players, we're management, we don't get involved in the politics of it all because it's a difficult enough job as it is just put a team out to try to win games."