Andy Cole recovering after kidney failure following airborne virus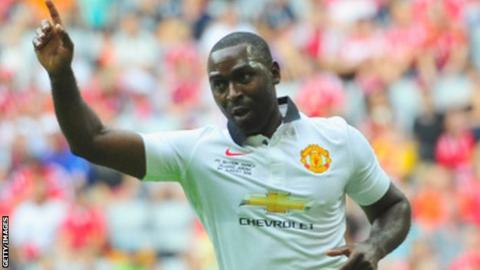 Former Manchester United and England striker Andy Cole is recovering after suffering kidney failure in June.
The 44-year-old, who won five league titles and the Champions League with United, contracted an airborne virus.
"I am on medication including some very strong steroids which has led to the change in my appearance," said Cole, who has withdrawn from a charity match at Old Trafford on 14 November.
"The consultant is hopeful that I will make a full recovery by next spring."
Cole, who scored 121 goals in 275 appearances for the Red Devils, played for 12 clubs in his career - including Newcastle United and Blackburn Rovers - and made 15 appearances for England.
He has been diagnosed with a condition called Focal Segmental Glomerulosclerosis, which causes scarring of the kidney.
Cole said he spent three weeks in hospital, during which he had a kidney biopsy and dialysis, but is "feeling better as each day passes".
He added: "I have been unable to work or to carry out my normal day-to-day activities and I am under close supervision from the renal team at the Manchester Royal Infirmary."
Cole, who is a Manchester United ambassador, was due to play at Old Trafford next week in a Great Britain and Ireland team captained by David Beckham and managed by Sir Alex Ferguson.
They will play a Rest of the World team skippered by France legend Zinedine Zidane and coached by Carlo Ancelotti in aid of the Unicef children's charity.