Jose Mourinho: Chelsea boss thanks 'amazing' fans after victory
Last updated on .From the section Football
Chelsea manager Jose Mourinho says he has never received greater support than the "amazing" reception given to him by fans during the Champions League win over Dynamo Kiev at Stamford Bridge.
Mourinho's future at the club has been questioned, with the defending champions 15th in the Premier League.
But Blues fans sang his name throughout Wednesday's dramatic 2-1 victory.
"I have no other way to thank them than to give everything I have, which I do always," said the Portuguese.
Willian's late free-kick clinched a much-needed victory over the Ukrainian champions, sparking huge relief at a nervy Stamford Bridge.
Chelsea have lost six of their first 11 league matches this season.
Mourinho also had to deny there is a player revolt at the club, and has been criticised for his behaviour.
But the Blues fans have been unwavering in their support for a man who has led them to eight trophies in two separate spells as manager.
"I had the moment when I came back to the club and we played the first match at home to Hull City and the way the stadium welcomed me was amazing - but not comparable with this," said the 52-year-old, who was sacked in 2007 before returning in 2013.
"It is not comparable with this because it comes in a moment where the results are not good, it comes in a moment where the media are asking for my end.
"This is my moment because it was amazing. The club has to be very proud of their fans."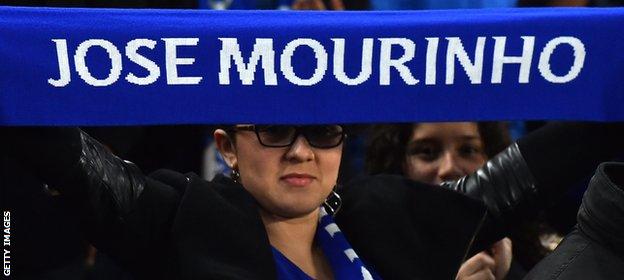 Family show support for Mourinho
Mourinho has been in the spotlight for both Chelsea's poor form and his behaviour in recent weeks.
The Portuguese manager was given a one-match stadium ban and £40,000 fine by the Football Association after he admitted a misconduct charge relating to his language and behaviour during the recent defeat at West Ham United.
He is also facing legal action from former Chelsea doctor Eva Carneiro after she was dropped from first-team duties.
During Wednesday's match, he received public backing from his family as wife Matilde, daughter Matilde Jr and son Jose Jr sat behind the dugout.
"It is my daughter's 19th birthday and if I don't see her from the bench I don't see her all day," said Mourinho.
"The day she was born I had a match and I was not there. At least when she was 19, I could look back and see her."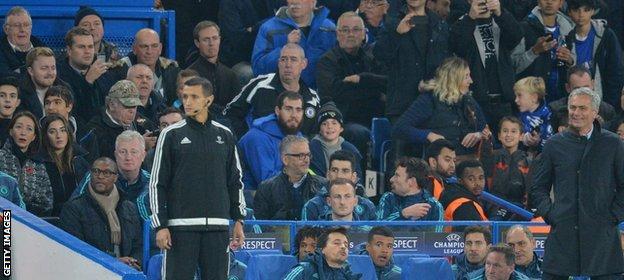 'Important to show strong mentality'
Chelsea's match with Dynamo Kiev looked to be heading for a draw when the visitors equalised with 13 minutes left - Aleksandar Dragovic cancelling out his earlier own goal.
But Willian's winner leaves the Blues certain of reaching the knockout phase if they take four points from their final two matches.
They visit Israeli side Maccabi Tel Aviv in their penultimate match on 24 November, before rounding off the group stage by hosting Mourinho's former club Porto on 9 December.
"We didn't need to win to qualify so it was not a drama at 1-1," said Mourinho.
"We knew that with a draw we would finish second in the group if we won our next two matches but from a mental point of view it was important to react to a negative moment.
"This was perfect because we conceded a goal with 15 minutes or so left and the team emerged.
"They knew 1-1 would be acceptable but they wanted to win and it will give them confidence."
'Chelsea losing is hard for kids'
Mourinho led Chelsea to the Premier League title six months ago, but the Blues' fortunes have slumped since.
And the manager said he felt sympathy for young supporters during their team's poor spell.
"I think it is an amazing feeling for the club to know the fans are in a good moment and to see the streets full of people celebrating with a buzz," he said.
"It is easy for kids to go to school with a Chelsea shirt when Chelsea are winning every match. With a Chelsea shirt on when Chelsea's losing matches, they are probably bullied by other kids whose teams are winning."