Arsenal v Tottenham: Conviction the key to Spurs' derby hopes

By Jermaine Jenas
MOTD pundit and former Tottenham midfielder
Last updated on .From the section Football

The question for Tottenham every year seems to be: can they make the top four? The answer is usually 'no'.
This season, with Manchester United not playing brilliantly and Chelsea well below their usual standards, there is a massive chance for them.
Sunday's north London derby at Arsenal will be a huge test of where Spurs are at, especially because they have been battered at Emirates Stadium a couple of times in the past few years.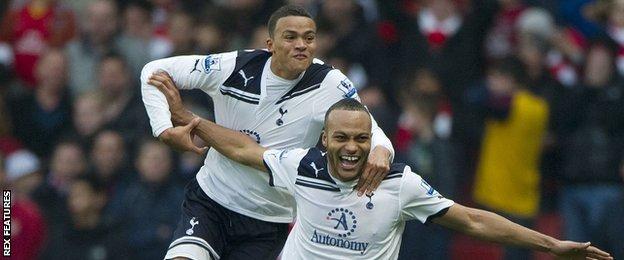 Spurs have not won there since November 2010, when we came back to win 3-2 in a game I played in. We had a decent record against them at that time, and had come back to draw 4-4 the season before.
We knew they had the better team but there would always be a point in the match where we felt like they had gone, that they did not want it and the game was ours. It was weird because, technically, they had everything they needed to beat us.
We would all keep grafting, no matter what the score was and I think because of our history of comebacks, especially at the Emirates, we knew we had a chance and they knew we could do it.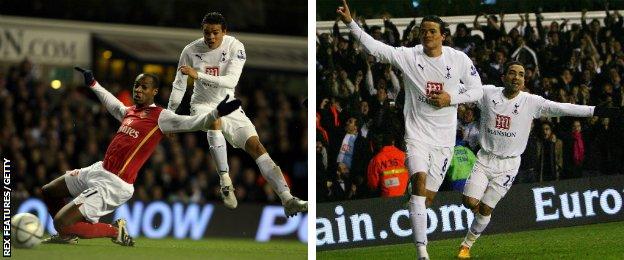 It definitely had an effect in at least a couple of games because we got inside their heads. I have not seen the same conviction from Tottenham in their last few visits.
Their good form should help them believe things can be different this time and I am expecting a decent performance, but to win they will have to start well and get a foothold in the game, then find a way of seeing it through this time.
Spurs want to play Pochettino's way
Spurs are unbeaten in the Premier League since the opening day of the season and seem to be gradually getting better and better.
This is a team that is developing all the time, but is already a side the fans can identify with, with character and players that they can be proud of.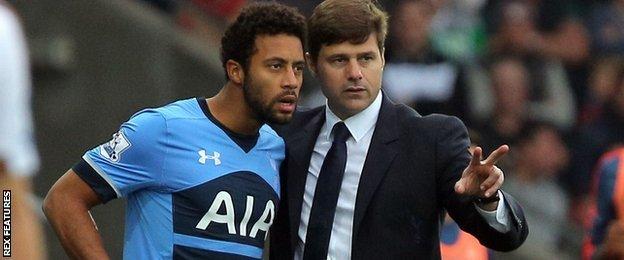 We had that at Spurs when I was at the club and we won the League Cup in 2008 with the likes of Ledley King, Dimitar Berbatov and Robbie Keane in the side.
There was a period of uncertainty because of the influx of players following the £85m sale of Gareth Bale in 2013 but Pochettino has been brilliant at recovering from that unrest since he took charge in May 2014.
We already know how Pochettino's teams play - pressing high and working hard - but Spurs are getting better at it all the time and with Eric Dier in front of Toby Alderweireld and Vertonghen, they have a defensive trio that is as solid as it gets.
Pochettino is putting less emphasis on possession and passing than last season, or when he was at Southampton, but it is noticeable that Spurs have had more shots, more shots on target, are covering more ground, making more tackles, and are facing fewer shots.
Tottenham in the Premier League under Pochettino (and rank)

2014-15

Average per game

2015-16

56.9 (4)

Possession

54 (5)

508 (6)

Passes

465 (7)

81.2% (8)

Passing accuracy

80.8 (8)

9.8 (6)

Shots

11.1 (5)

4.5 (6)

Shots on target

6.5 (3)

21.4 (2)

Tackles

24.2 (1)

4.5 (13)

Shots on target faced

3.4 (4)

114.1km (2)

Distance covered

116.54km (2)

514.7 (3)

Sprints

539.9 (2)
It might have taken him a while but he has certainly put his stamp on this Tottenham side now and the real bonus for fans is he has done it with a lot of home-grown players, like Harry Kane and Ryan Mason.
A big part of it is he seems to have given all the players a positive mindset, even the ones who don't play every week. They all want to play, and they all want to play his way.
What's behind Alli's remarkable rise?
One of the stars of Spurs' recent successes has been Dele Alli. I can relate to his rise from League One teenager to Tottenham regular and the England team in a matter of months, because I did something similar.
I was 18 when I joined Newcastle for £5m from Nottingham Forest in 2002, the same age Alli was when Spurs signed him for an identical fee from MK Dons in January. We also both played for England at 19, soon after getting to the Premier League.
To make such a big impact so quickly takes more than just talent - to do it you need confidence, maturity and, most of all, to be lucky enough to have a manager who believes in you.
Where Alli has Mauricio Pochettino, I had Sir Bobby Robson. Both managers were willing to throw us in and put their neck on the line, but they did it in a very clever way.
On the face of it, Pochettino has promoted Alli very quickly since the start of the season but, if you look at how his game time has steadily increased, you can see how he was allowed to take baby steps at first.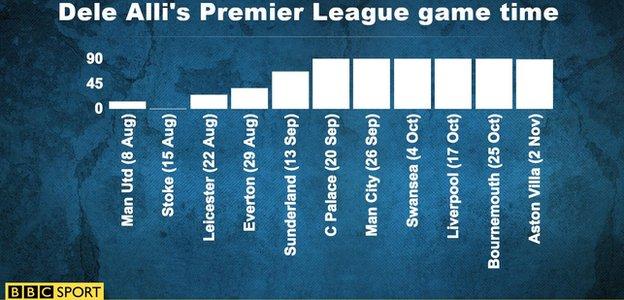 To begin with, Pochettino also used him in positions where there was less responsibility, something Sir Bobby did with me. He put me out on the right at first and told me to go and roam but, like Alli, I ended up playing in the centre of midfield.
With Alli, that might have happened because of injuries at first but he is now in a situation where he is seen as an integral part of the team by his manager and team-mates.
Dele Alli touches for Tottenham

v Everton (29 Aug)

v Aston Villa (2 Nov)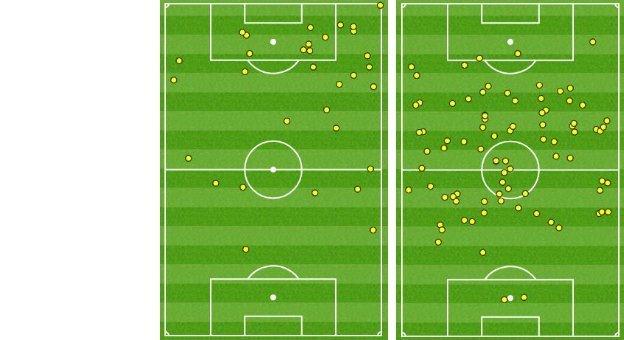 With Spurs playing well and pushing for the top four, I can only see him going from strength to strength.
He is at the right club and with the right manager, which is the same scenario I was in under Robson when I went on to become PFA Young Player of the Year in 2003.
Having the confidence to know you belong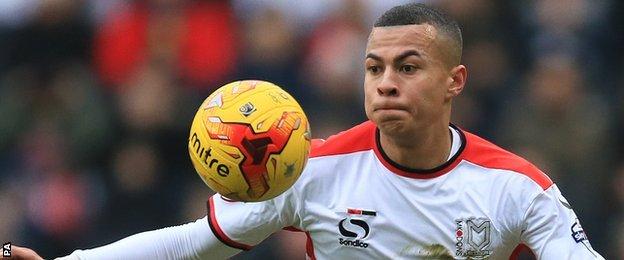 Alli might have looked at Spurs before he joined them and thought their midfield would be tough to get into, but he backed himself to make the grade and his self-belief has paid off.
Like him, I had the option to go to other clubs but I was very confident as a young lad. I went to Newcastle to play Premier League football because I thought I was ready for it.
It sounds like I am bragging but, even before I went to St James' Park, I felt like I belonged in the top flight - I did not think I would need time to adjust.
All about Alli

Born in Milton Keynes, 11 April 1996

Height: 6ft 2 in

Supports Liverpool

Favourite player: Steven Gerrard
Signed for MK Dons aged 11

Made first-team debut aged 16 as a sub

Scored his first goal in his first start - from 35 yards

Played 88 times for MK Dons, scoring 24 goals
My game did not suit the hustle and bustle of chasing long balls, knock-ons and second balls in the Championship. I was not strong enough and it wore me down.
I was still developing physically but technically I had the elements I needed for the Premier League, where you actually get more time on the ball. I was very lightweight, but I was quick, fit and could get it down and play.
I went to watch Newcastle just before I joined them and knew that, if I did what I was capable of, I would soon be starting games in their team.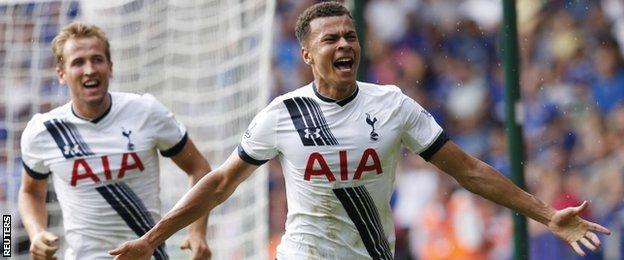 My debut was the hardest part but once I crossed the barrier of getting through that day, I saw my team-mates begin to look at me differently.
Exactly the same has happened with Alli. After Tottenham beat Aston Villa on Monday, Spurs defender Jan Vertonghen said on TV that he did not know anything about him until the summer, but since then he has been "unbelievable" in training and games.
What changes when you play and do well is your more senior team-mates start to think you can handle yourself. They look to protect you to begin with but that changes and they start to give you the ball more and say 'go and create something'.
I can see that happening with Alli, who is being given more and more responsibility on the ball, and is responding by making things happen. That is why he is growing as a player.
What next for Alli? Euro 2016?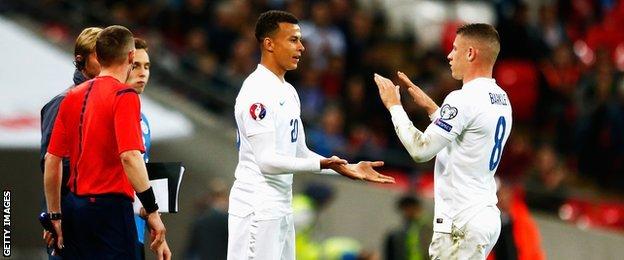 Once you have made the step up and done well, then you have to maintain the standards you have set and cope with the added pressure that brings.
To do that, you need the right attitude, and the signs are that Alli has got what it takes.
Firstly, he already shows great maturity on the pitch and his game understanding belies his years. He is fearless because he is young but he is clever enough to realise he has a role for the team and, although he always looks to get forward, he does it at the right time and does not just charge around.
Off the pitch, too, I have been impressed. I have heard he is a lovely lad who is easy to deal with and wants to keep learning, which is only going to help him continue to progress.
It has been great to see his response to all the plaudits that have been thrown his way in such a short space of time, because he has not changed.
I went through all that at Newcastle. As I got older, things were far more of a rollercoaster but, at this stage, Alli will be feeling as if he is unbeatable and thinking he is going to play well and score every time he goes on the pitch.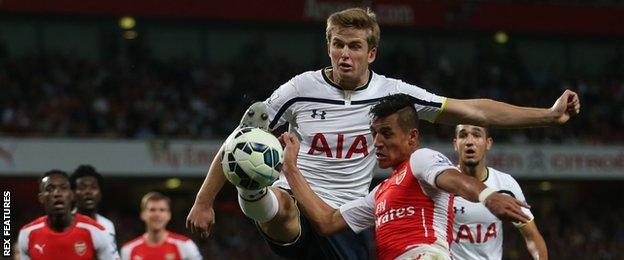 Alli has kept his place in the England squad for November's friendly against France and has a great chance of making the squad for Euro 2016.
He won't be thinking much about that now, though. Instead he will just be loving every game and enjoying himself, which is exactly the way it should be for a footballer at his age.
Jermaine Jenas was speaking to BBC Sport's Chris Bevan.