Joe Dunne: Cambridge caretaker focused on 'right here, right now'
Last updated on .From the section Football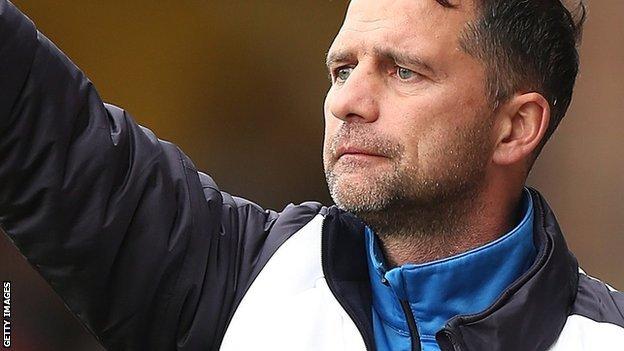 Cambridge United's assistant manager Joe Dunne says he is focused on Saturday's FA Cup tie with Basingstoke.
"You can talk about philosophies and strategies. There's no time for that now," said Dunne.
"There's a great song called Right Here, Right Now. I'm not going to sing it, but I'll relay it. That's it."
He told BBC Radio Cambridgeshire: "We all met with Richard on Monday and he was professional about his goodbyes. The club itself have kept me informed of the situation."
Dunne joined as Money's assistant manager in May, having previously managed Colchester United between 2012 and 2014.
"I spoke to (chief executive) Jez George, and as things progress, clarity is important. At the moment, everyone knows where they stand," the 42-year-old added.
"There'll be many, many applicants, and so there should be. Having been here only a short time, I'm very impressed with the city, the fans and the club itself, so it's a great job for somebody."