Garry Monk: Swansea City boss wants Wales 'common sense' on duo
Last updated on .From the section Football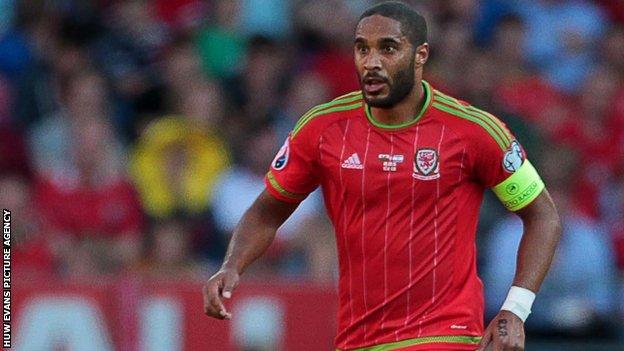 Swansea City manager Garry Monk says he would prefer Wales pair Ashley Williams and Neil Taylor did not play a full 90 minutes against the Netherlands.
Defenders Williams and Taylor are in the Wales squad for the friendly Cardiff on 13 November
Arsenal boss Arsene Wenger criticised Wales' treatment of Aaron Ramsey and Monk hopes common sense is used with his players' game time
"All you do hope, is that common sense is used in friendly games," Monk said.
Monk was asked for his view of club-country issues and whether his Wales internationals should be rested during games
"Possibly from my perspective but that's not my decision," replied Monk.
"[But] you can't stop a player from wanting to do that.
"Neil and Ashley are very proud to represent their country and enjoy jointing the international set-up, but you'd like to think common sense would be used"
Wenger was unhappy Ramsey, 24, played for Wales against Andorra in a Euro 2016 qualifier in Cardiff on 13 October.
Ramsey came off during Arsenal's win over Bayern Munich, three days after playing 90 minutes at Watford on 17 October.
Wales manager Chris Coleman accused Wenger of a "cheap shot" over Ramsey's hamstring injury and said he had received no communication from his Arsenal counterpart.
Monk said keeping in contact with national team managers was good practice, but not always practical.
"I know Chris very well, but I'm not going to ring him every time an international comes up," Monk added.
"They have a job to do, to play for their country is [a] very proud [thing] for a player and you don't want to step in the way of that."
Meanwhile Monk confirmed the club are close to an agreement to release forward Michu.
Recent reports suggest the Spanish international is soon to have his contract cancelled, having fallen out of favour at the club.