FA Cup: Barwell buzz boosted by Wembley winner Dave Bennett
By Owen Phillips
BBC Sport
Last updated on .From the section FA Cup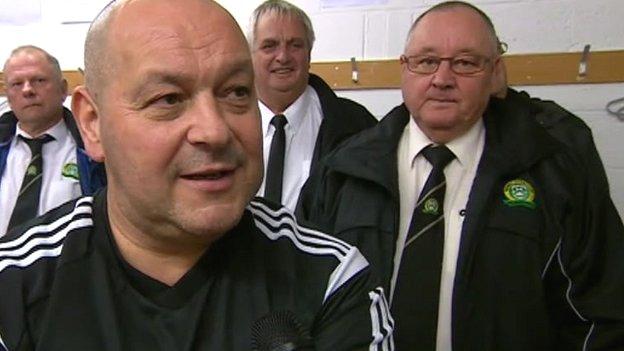 Barwell manager Jimmy Ginnelly might just get hold of his buddy's FA Cup winners' medal to inspire his side for their FA Cup first-round debut on Saturday.
Ginnelly is a good friend of 1987 Wembley winner Dave Bennett, who scored in Coventry's City's thrilling 3-2 victory in the final against Tottenham.
"I have a drink with Dave and Kirk Stephens on a Sunday night," Ginnelly told BBC Sport prior to the tiny Leicestershire club's home tie against National League side Welling.
"They both played for Coventry and played for me when they retired from the professional game, and Dave has told me plenty about the FA Cup.
"He sometimes wears his medal under his jumper for a laugh when we have a beer and, after a few pints, he lets the medal show and says 'here, have a look at this'.
"I might wear it before the game and say to the boys: 'Take a look at this, you'll never get one of these.'"
But while Bennett, 56, was a spectacular 1987 Wembley winner, he was an equally spectacular 1989 FA Cup-upset loser.
Indeed, the winger also played when the Sky Blues were beaten 2-1 by Conference side Sutton United in the third round less than two years later - one of the most famous FA Cup upsets in history.
Bennett is less likely to be drawn on his memories from that day, although they could be more useful for Ginnelly's Northern Premier League men.
"Dave doesn't talk about the Sutton game," 52-year-old Ginnelly said. "But we do. We remind him plenty. It's great to tap into the experience that Dave and Kirk have got."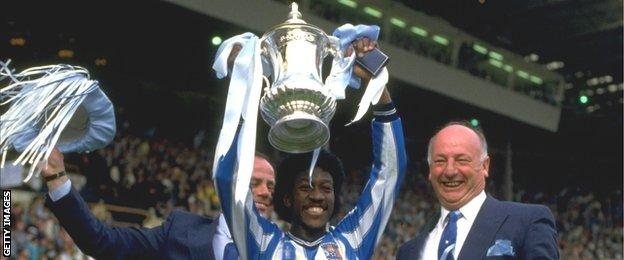 Non-stop excitement
Beating Welling at Kirkby Road on Saturday would not rank in the same league as Coventry's day to forget at Gander Green Lane 26 years ago.
But it would be massive for Barwell, who were only formed in 1992. And it would be "massive" for Ginnelly, who is relishing his time in the first-round limelight after a couple of close calls saw them reach the final qualifying round but no further.
"It's amazing," Ginnelly said. "The whole place is buzzing and it's been non-stop for me because everybody wants a bit of me. It's great though, I wish it was like it every week.
"Everywhere you go, people are talking about it and saying they are coming along. It would be great to get a crowd of more than a thousand here.
"I'm laid back and switched on and we are well prepared. We've looked at them, worked on our shape and we are really looking forward to it."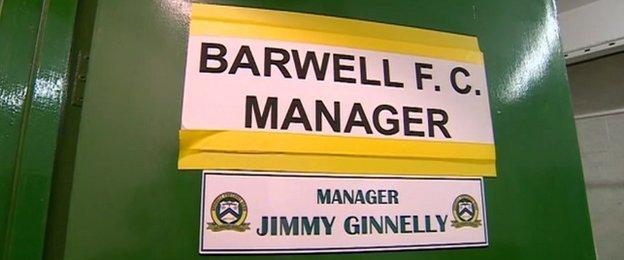 Home comforts
Barwell can draw on the comforts of playing this match at home, and valuable experience gained from a harsh lesson in FA Cup football.
The Canaries have been drawn at home in all of their four FA Cup ties this season.
But in 2014-15, they were one step away from the first round when they suffered a humbling home defeat by another fifth-tier side - Altrincham.
Barwell had two players sent off in the 3-0 loss and Ginnelly, who has been in charge for five years, said: "Losing to Altrincham was a learning curve.
"Maybe we didn't realise the gulf in class. It was a real footballing lesson and hopefully we will have benefited from that."
Match of the Day dream
Ginnelly cannot help but think about the chance to take in BBC's Match of the Day highlights and catch his own side in action on the TV.
"The FA Cup is amazing and to think we could be on Match of the Day is incredible," Ginnelly said.
"The lads are a really hard-working side and will leave absolutely nothing in the dressing room. We have some flair up front and some good creativity and are really well prepared.
"We are only a little northern Premier League club punching above our weight. A good run is paramount for the finances and it really makes a difference.
"I am chuffed to help that and keep a smile on the chairman's face."