Louis van Gaal tells Manchester United fans to boo him
Last updated on .From the section Man Utd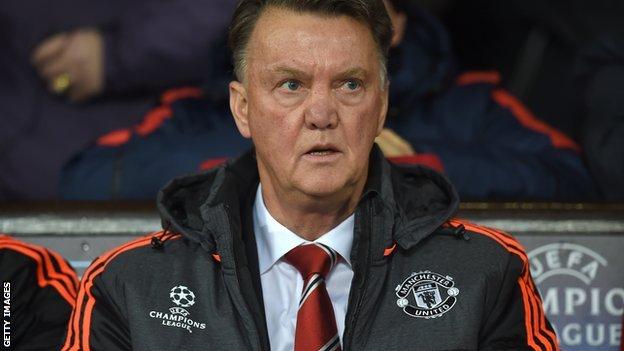 Manchester United boss Louis van Gaal has told fans to jeer him, not the players, after some in the Old Trafford crowd demanded a more attacking style.
"I can only advise the fans to criticise the manager and not the players," he said.
"I can cope with it. I have had a lot of experience in my life as a manager."
Van Gaal added that the atmosphere at Old Trafford could be hindering his side's creativity.
He said: "When you play for Manchester United you believe that you have to be top of the league. That's the culture of the club.
"All the players who are coming here feel that, but it is also a pressure. You have to cope with that pressure.
"It's very difficult to play for Manchester United with a lot of pressure and you can taste that in Old Trafford because of all the yelling, then it's not good for my players."
The Dutchman believes the club is "more stable" than when he took over as manager in the summer of 2014, after he had guided the Netherlands to third place at the World Cup, but says scoring more goals is essential.
"We still have to play a lot of matches, but we have many more points, we are more stable, we are having less goals against us than last season.
"We have to score more goals, but only one more than the opponent.
"And, of course, we still need players with more creativity and pace on the wings. That I have said five months ago, three months ago and now I am saying it again, but we need that, so we are still in a process."
Manchester United play West Brom at Old Trafford on Saturday.
The Baggies, who have won the last two Premier League games they have played at Old Trafford, have kept clean sheets in four of their five away matches in the league this season.