Coventry City: Chris Anderson put in charge of 'football strategy'
Last updated on .From the section Football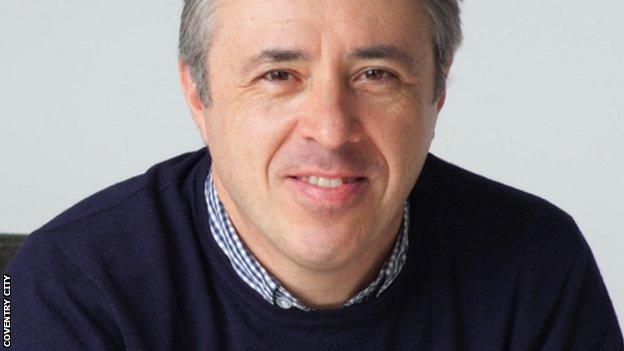 Coventry City have appointed ex-German footballer and American university professor Chris Anderson to 'lead the club's commercial & football strategy'.
"Chris and I have had a number of very productive meetings already," said Sky Blues technical director Mark Venus.
"I welcome Chris to the football club," added City manager Tony Mowbray.
"In our conversations, I have seen the know-how he brings to the club and how supportive he is of our plans to progress it as far as we possibly can. I'm sure his support will be invaluable to achieve our aims."
Club chairman Tim Fisher added: "On behalf of the management team and board I welcome Chris to the club and look forward to working together."
He will be responsible for both the commercial and football operations of the club on behalf of the board and current ownership (Otium Entertainment).
Coventry, who have not lost in seven League One games, lie fourth in the table, just a point off top spot, ahead of Saturday's FA Cup first-round home date with their former landlords Northampton.
Who is Chris Anderson?
In a statement released by Coventry City, it says: "Chris has previously worked with a number of professional clubs. He has worked as a financial accountant, leading academic, and professional adviser to the football industry."
He was a professor at an 'Ivy League' establishment, Cornell University in Ithaca, New York.
Anderson and his co-author, former baseball pitcher and fellow American professor David Sally, released a book in 2014 entitled 'The Numbers Game: Why Everything You Know About Football is Wrong'.
In the promotional accompaniment to the book, he is described as an "award-winning social scientist and football analytics pioneer".