Glasgow City: Scott Booth hails treble-winning side
Last updated on .From the section Women's Football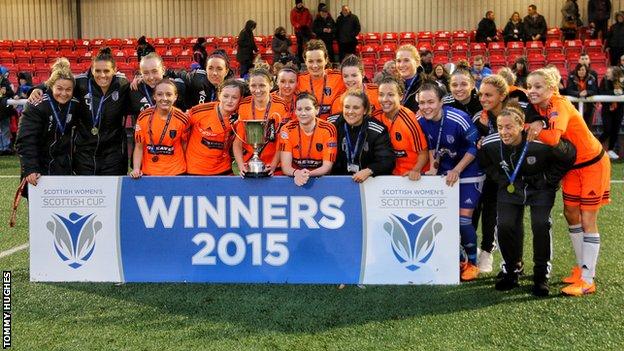 Glasgow City manager Scott Booth says it was not easy for his players to complete another domestic treble.
The win sealed a fourth consecutive domestic clean sweep for City, but the first under Booth, who succeeded Eddie Wolecki Black as head coach in July.
"The league hasn't been easy, the cups haven't been easy - it's been a real challenge," Booth said.
City finished ahead of Hibs in the Premier League and overcame the same opposition in the League Cup final.
Despite City enjoying huge success under his predecessor Wolecki Black, Booth feels maintaining those high standards has brought its own challenges.
"It's not often as a head coach or a manager that you get the opportunity to take over a team that's successful and have that pressure to keep them successful year-on-year," the former Aberdeen and Scotland striker told BBC Scotland.
"So far, so good for the players and coaching staff. We've got such good, professional players here that it does make it easy for you, that's for sure."
Clare Shines on the big stage
Hibs have clearly been City's greatest rivals for silverware this season, and Booth believes the more competition there is for his side the better.
"It just gains more interest in the league itself because obviously games are closer, titles are closer, so I think that can only help the game and help bring fans in who want to see competitive football."
Shine's three goals were the decisive contribution to the cup final at Ainslie Park in Edinburgh and Booth was thrilled to see her produce her best in such an important game.
"I'm really pleased for Clare because she hasn't been first choice all season, or since she came into the club been first choice, but what she's done is worked so hard," Booth added.
"She's thinking about her game and she's improving all the time. In recent weeks she's grown in confidence and I thought her finishing today was excellent."