Portuguese Club investigated for walking off after referee decision
Last updated on .From the section Football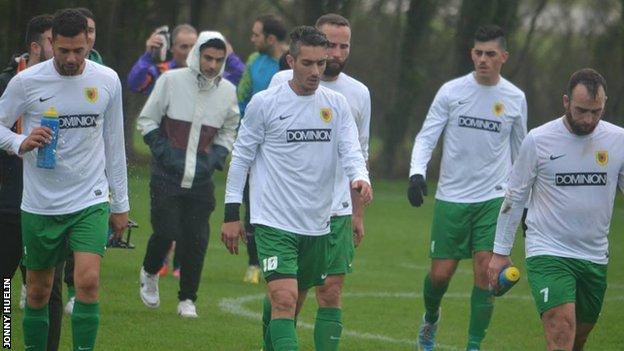 The Jersey Football Combination has launched an investigation after a game was abandoned when one team walked off in protest at a referee's decision.
Portuguese Club left the pitch in the closing moments after Jersey Wanderers scored to take a 3-1 lead.
Their linesman claimed he flagged for offside, but the referee ignored him.
"I'm not having a team walking off. I'm going to make sure that somebody pays for this," league president Charlie Browne said.
While a referee is provided for each game in the JFC by the island's football association, clubs each provide a linesman who officiates at the end their club is defending.
"I lifted the flag up for an offside position for their player and the referee just played on and it ended up being a goal," Portuguese Club linesman Miguel Pereira told BBC Radio Jersey after the match.
BBC Radio Jersey's Richard Collinson
"I can't think of a precedent. It's something I've never seen before in a Jersey Football Combination match - a game abandoned because one of the sides simply decided to walk off the pitch."
"During the first half there were three or four, maybe even more occasions, where I lifted my flag and the referee just played on.
"Last week was exactly the same, four of five times our linesman put the flag up, it was clearly offside, and the referee just played on.
"I've played football for a lot of clubs over here and this season particularly we seem to be victimised."
Portuguese Club have had disciplinary issues in the past, having been charged with misconduct and kicked out of the league in 2006 following a cup game against Jersey Wanderers, before successfully appealing to the Football Association in London.
The JFC will decide whether the result stands, but the prospect of Portuguese being banned again is a possibility, according to Browne, who said he will consider "every option".
He added: "There seems to be a minority out there that are hell-bent on tarnishing football and I'm going to do everything I can do to protect the integrity of the match officials, the league, and most important, the sport of football.
"People say football's letting the island down and it's true. I'm not going to stick my head in the sand, there's an issue definitely and I'm going to sort it out. I fear for clubs like Portuguese acting like this."