Guernsey FC boss Tony Vance unhappy at lack of players
Last updated on .From the section Football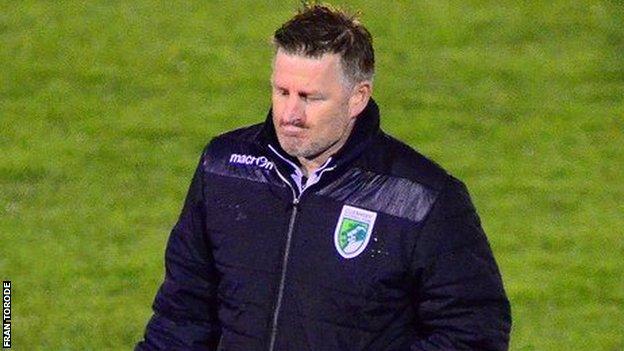 Guernsey FC boss Tony Vance says his side's 5-2 loss at Folkestone Invicta was down to his inability to pick a consistent side.
Vance had a squad of just 13 players for the Saturday trip to the Isthmian League Division One South leaders.
"What I've seen over the last six or seven weeks is that we've got more than enough to get out of this league," he told BBC Radio Guernsey.
"But can we get it all at the right time and are the resources there?"
The defeat was Guernsey's third in their last four games, having won five of their six matches prior to that.
"I'd really like to play Folkestone when we've got a full set of resources because I think we can certainly challenge them," said Vance.
"But unfortunately it's never that way for us and unfortunately it's a bit of a mismatch when we play them for those reasons.
"I'm not going to criticise the lads at all, in fact I'm going to praise them.
"It sound ridiculous - 5-2 everyone will think is a hammering, but those that were here will realise that's not the case. All we were doing was the best we could with the resources we had."