Jersey Football Combination struggling for referees - Davidson
Last updated on .From the section Football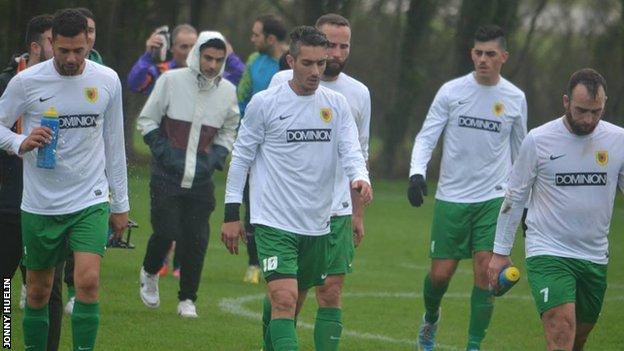 The Jersey Football Combination's lack of senior referees can be problematic for the league, according to Jersey FA chief executive Neville Davidson.
"There's 1,000 games a season, and at the moment on a good day we've probably got about 20 senior referees," he said.
"Therein lies the problem, we have to appoint club officials to run the line, which can cause a problem or two."
Portuguese Club left the pitch on Saturday in the closing moments after Jersey Wanderers scored to take a 3-1 lead.
The away side's club official linesman claimed he flagged for offside, but the referee ignored him.
Davidson admitted that the league are struggling for numbers of senior officials, but hopes that things can change to help prevent scenes like Saturday.
"If we can make things better on and off the pitch with discipline, and people realise the dilemma we could be in and we act now, there's no reason why we can't recruit more referees," Davidson told BBC Radio Jersey.
And he added that there are steps being taken to try to change the discipline in the league.
"I've set up a committee for managers and referees to work together," he said. "We're looking at different things that we should be doing in a game, like handshakes, to raise standards.
"We need to raise the standards and other things will fall into place. We do recommendations to the JFC for their monthly meeting and recommend that there's only certain people in the technical area.
"It's just very basic things, but it's the little things that are important."