Wayne Rooney slaps WWE wrestler Wade Barrett
Last updated on .From the section Man Utd
Wayne Rooney has faced some fearsome opponents in his career, but they don't come much bigger than 6ft 7in, 246lb WWE wrestler Wade Barrett.
And when the pair went head to head at the Manchester Arena on Monday night, it was the Manchester United captain who came out on top, giving Barrett the slap down.
You what?
This bizarre 'feud' dates back nine months when British wrestler Barrett accused Rooney on Twitter of diving to win a penalty in an FA Cup win against Preston North End, challenging him to a tag team match.
When Preston fan Barrett spotted the striker in the front row with his son Kai at WWE Raw, he saw a chance for revenge.
He began goading Rooney and offered him a fight in the ring - before adding that he did not want to embarrass the striker in front of his son, saying that he experiences that "every time you step on a football pitch".
It escalated...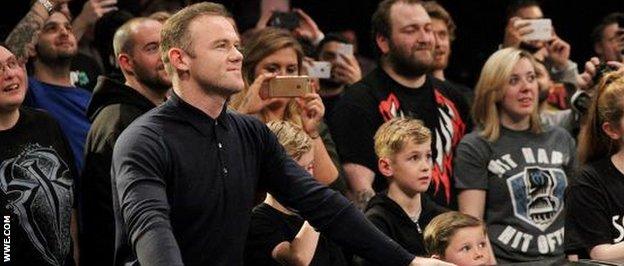 Rooney began taunting Irish wrestler Sheamus during his fight with Antonio Cesaro, which prompted Barrett to confront his footballing nemesis face-to-face at ringside.
He told Rooney to mind his own business and prodded the England star in the chest.
The England captain responded by slapping Barrett, who fell to the ground theatrically as part of the stunt - to the delight of the crowd.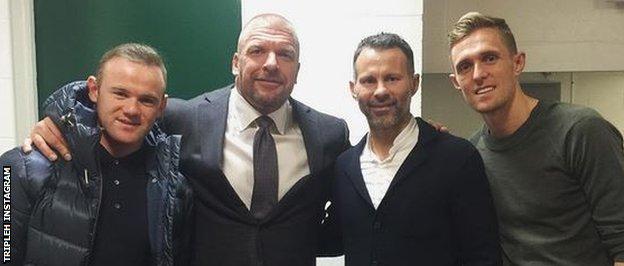 A rematch?
Barrett later told WWE.com that "Rooney's days are numbered".
He said: "If he wants to come to my home and start trouble then I'm going to go to his home of Old Trafford and settle this once and for all."
He then tweeted: "I'm heading to Old Trafford early tomorrow morning. I hope @WayneRooney has the guts to meet me there."
Barrett asked, "Does anyone have Phil Bardsley's phone number?", in reference to an infamous video this year that appears to show Rooney being knocked out by the Stoke player.
Rooney didn't seem too bothered by Barrett's threats, tweeting: "Great night at @WWE with the lads!"

Still waiting, Wade?