Gordon Strachan can count on experience for 2018 campaign
By John Barnes
BBC Scotland
Last updated on .From the section Football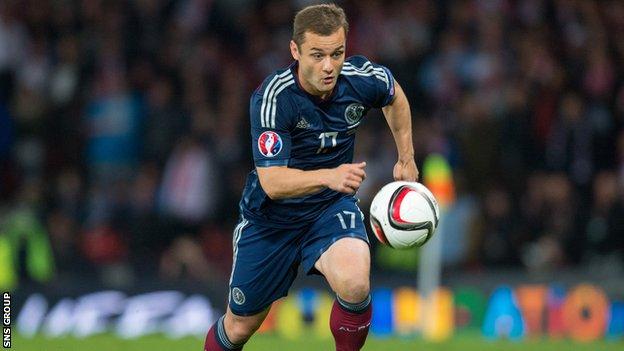 Manager Gordon Strachan says senior Scotland players have indicated they are up for another campaign.
Having failed to reach Euro 2016, the next quest is the World Cup qualifiers which begin next autumn.
"They are all positive and I don't see why not," said Strachan on retaining experienced members of his squad.
"Even Gordon Greer who is getting on a wee bit," he added on the 34-year-old Brighton defender, who has been capped nine times.
Captain Scott Brown, Shaun Maloney, Darren Fletcher, Alan Hutton, Steven Whittaker and Christophe Berra are also in their 30s, along with goalkeepers Craig Gordon, Allan McGregor and David Marshall.
Scotland have not been at a major finals since 1998 and will be up against England when the race for places at Russia 2018 begins.
Strachan will be with the Under-21 squad this week as they prepare to meet Ukraine at St Mirren Park on Friday.
And he is keeping an open mind on future selection.
Gordon Strachan on Scotland Under-21s
"It will be a watching brief, just observing the players.
"It can't be a stepping stone playing an Under-21 international then going back and playing Under-21 football somewhere else or you don't play.
"As far as I'm concerned a stepping stone is playing regularly in your club's first team in a competitive league.
"What I'm looking for are players who decide at this age that they're going to give everything to this profession.
"If they want to play at the top level - internationals or Champions League - that means you have to decide right now you might have to play 55 or 60 games a season - that's what top players do.
"Get your mind right, that stiffness is not a disease - it's part and parcel of what top players deal with."
"I've not got a problem with age, whether they are 17 or 37," he continued.
"The criteria is being able to pass the ball, football intelligence, being willing to come here and work hard. If you've got all that, you are in with a chance of getting in this squad.
"What you've got to look at, before the next time we get together in March, a lot can happen. I'm hoping people will throw themselves in front of us and say 'you must pick us'. Preferably younger (but) if it's older I've not got a problem.
"I hope there's a young superstar out there. Our system will probably be the same, unless two or three players develop who are magnificent. But I can't see that on the horizon so we go with what we have done."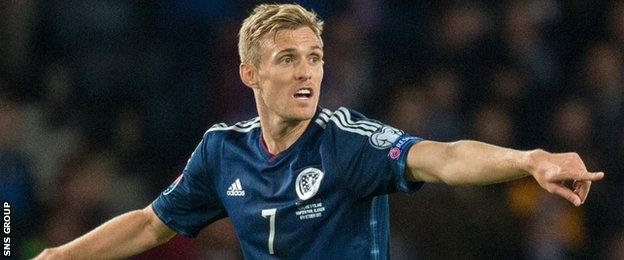 Strachan, who has committed himself to stay on as the national team boss for another two years, explained he was always going to wait until the Euro 2016 campaign was over before deciding on his future.
"We always said we'd wait until the end of it," said the former Celtic and Southampton manager.
"I wanted to make sure that after the final games everybody was still happy with the way we were going, happy with the progress and I mean everybody - the staff, the players, my bosses, the fans - and we got a positive reaction. I just needed that confirmation."