Rangers: Former SPL chief Roger Mitchell rejects title-stripping talk
Last updated on .From the section Football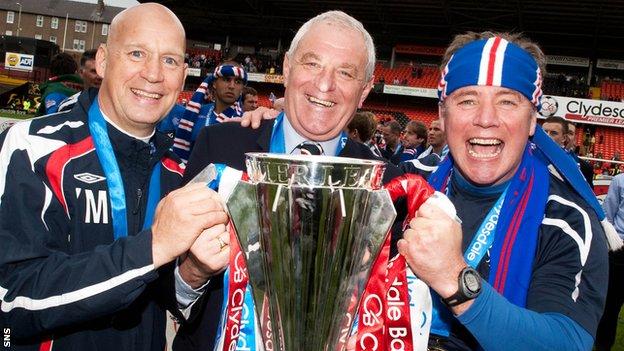 A former Scottish Premier League chief executive has described the fallout from last week's court ruling on oldco Rangers' tax affairs as nothing more than "fans' bragging rights".
The Court of Session decision that the company running Rangers from 2001-10 had broken tax rules has ignited debate about stripping Rangers of five titles.
"I'm a Celtic guy. I don't care whether they strip them from Rangers or not," Roger Mitchell told BBC Radio Scotland.
"It is much ado about nothing."
Mitchell left the SPL in 2002, four years after helping to launch the organisation, when Celtic and Rangers blocked his plans for a subscription-based SPL TV channel.
Rangers have dismissed the notion that the Scottish Professional Football League, which was formed in June 2013 from the SPL and the Scottish Football League, should revisit the subject of the club's title wins in light of the Edinburgh court ruling.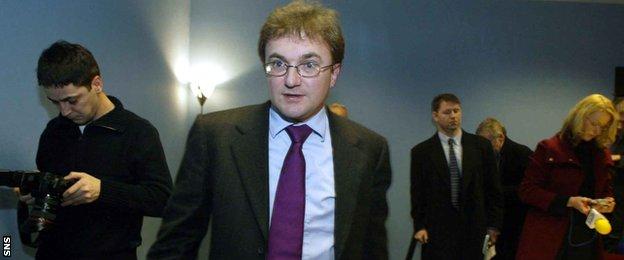 The liquidators of oldco Rangers, BDO, have until 2 December to initiate proceedings in the Supreme Court to challenge the Court of Session's decision in favour of Her Majesty's Revenue and Customs over the club's use of Employee Benefit Trusts.
HMRC's victory followed oldco Rangers winning a First Tier Tax Tribunal in 2012 and a subsequent unsuccessful appeal by the tax man last year.
Former Celtic defender Darren O'Dea believes that, if Rangers are finally found guilty of breaking tax rules, they should be stripped of the titles won while they operated EBTs, but former Celtic captain Paul Lambert is of the opposite view.
Mitchell, speaking on Sportsound on Tuesday, called EBTs a "mechanism of financial doping" but added: "What we're talking about here is fans' bragging rights.
"Scottish football should draw a line under this. We have had three times to go for this EBT. If I were in Rangers' corner I'd say 'it's 2-1 for me' and the fourth one, I don't know which way it's going to go.
"Many clubs over the years have spent more than they should have to win success - Rangers, Hearts, John Boyle's Motherwell.
"So where do you draw the line where somebody is using financial doping to get titles and under what circumstances should you remove them?
"If they go into administration should you remove the previous five years? Maybe. Uefa has brought in Financial Fair Play to try to deal with that.
"It is much ado about nothing. That is my opinion on this sad saga."
'A 120-year battle'
Mitchell said his preference was to see effort being spent instead on improving the state of the game in Scotland and offered a colourful analogy for what had occurred at the Ibrox club in relation to its rivalry with Celtic.
"My view of what happened is it was a 120-year battle between two titans and in 2010 one was on the battlefield dead," he told listeners.
"I believe they're the same club. I'm not into this newco/oldco stuff.
"They were dead but they came back. It's like France and Germany have had wars over a thousand years - they come back. It doesn't mean that they are not the same army or the same nation.
"Rangers is the same soul as it was before, the fans are the same soul. As a Celtic fan, I take my bragging rights from the fact that in 2010 they were dead, lying in the battlefield, but they are back.
"Next we'll start again and it will be just as interesting.
"If I was still there I'd say, 'It's ending now'. It's not moving on the game."