Matt Williams: Burnley to bring in Shrewsbury Town chief executive
Last updated on .From the section Football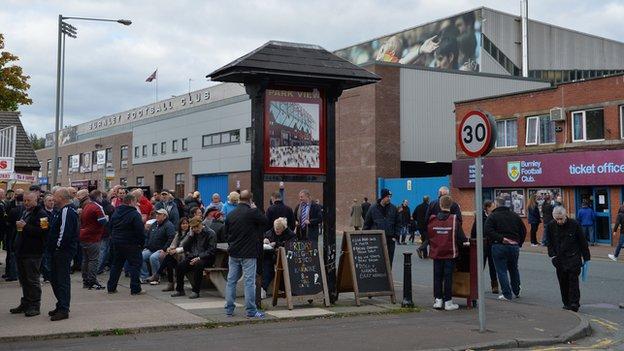 Shrewsbury Town chief executive Matt Williams is to leave in January for family reasons and become general manager of Championship club Burnley.
Williams has been with the Town since arriving from Blackpool in May 2014.
But he has maintained his family home in Lancashire throughout that time, while living in hotels and then a small flat in Shropshire.
And with his wife now expecting their first child in March, he has taken up an offer to return to the North West.
"I've got mixed emotions, to be honest," Williams told BBC Radio Shropshire. "There's the excitement of moving to a club of Burnley's size, of looking forward to being a new dad and of being at home every night after 17 months of living out of hotels and then a flat during the week.
"But there's also an element of sadness. I came here to Shrewsbury when the club was on bit of a downer following relegation from League One and, in the last 17 months, I think I've listened, made some good changes and made the business more profitable and more efficient."
The highlight of Williams' time at the Greenhous Meadow was promotion back to League One in April under manager Micky Mellon, but he hopes his lasting legacy will be the club's improved communication with their supporters during his time at the helm.
"Every club is criticised for not communicating with the fans," he added. "At times, I've said too much and given too much information away. It's their club and they do have a right to an explanation.
"I like to think I'll be leaving the club in a better place. It's a long time until the end of January and I will be working hard to maintain that development."
Shrewsbury chairman Roland Wycherley said: "We are sorry to be losing Matt. Since he arrived, he has helped to progress the club and provided a stable platform to move forwards."