Rangers: Dave King critical of 'other Scottish clubs' over titles
Last updated on .From the section Rangers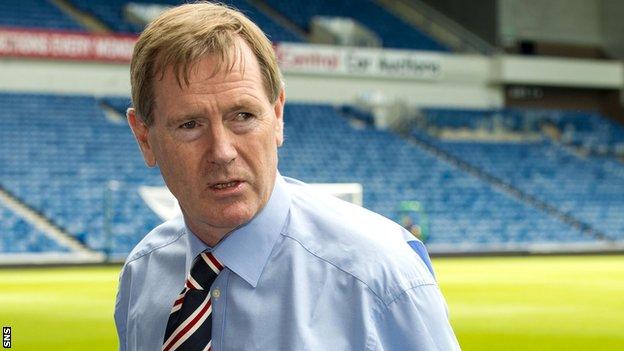 Rangers chairman Dave King has criticised "representatives of other Scottish clubs" over the reopened debate over past titles.
A judgement last week said Rangers' use of Employee Benefit Trusts (EBTs) between 2001 and 2010 broke tax rules.
It has led to a public debate about the legitimacy of titles won.
"It is extraordinary that representatives of other Scottish clubs should even wish to re-engage with this issue," said King.
The Scottish Professional Football League's board on Friday discussed the latest judgement following a successful appeal by Revenue and Customs.
A league statement issued afterwards simply said that a short conference call was held to give a factual update.
But King has now issued a warning that "if the history of our club comes under attack, we will deal with it in the strongest manner possible and will hold to account those persons who have acted against their fiduciary responsibilities to their own clubs and to Scottish football".
Without naming anyone in particular, he expressed surprise that representatives of other clubs might wish to reopen the matter even though they "admit the damage done to Scottish football by Rangers' removal from the Premier League".
"This is a misguided attempt (that will ultimately fail) to rewrite history and defeat Rangers off the park when their teams could not do so on the park at the time," said King.

Top players like Tore Andre Flo, Stefan Klos, Peter Lovenkrands and Mikel Arteta benefited from EBTs.
"Certain players may not have signed for the club without the perceived benefit of personal tax savings, but there was no general advantage for the player squad, or the performance on the pitch," said King in a statement on Rangers' website.
"We would still have signed players of equal abilities if one or two had decided they didn't want to sign under different financial circumstances."
King pointed out that, in a report commissioned by the Scottish Premier League, Lord Nimmo Smith "has fully and finally dealt with the legitimacy of the continuity of the club's history. There is no more to be debated on that issue".
Rangers won five titles during the EBT era and King said he was "uniquely positioned" to comment having been a major shareholder and director during the period.
"Irrespective of the final outcome of the tax appeal (which might take several more years), the football team had no advantage from any tax savings from the scheme put in place by the Murray Group," he said.
"Throughout the period in question, the shareholders were committed to providing funding to the club.
"The tax scheme may have reduced the need for shareholders to provide higher levels of funding.
"So, as I have tried to make clear in the past, any advantage gained would have been to the company and its shareholders, not the team."
The SPFL is making no comment at present.