Euro 2016 play-off: Away goal no advantage, says Martin O'Neill
Last updated on .From the section Football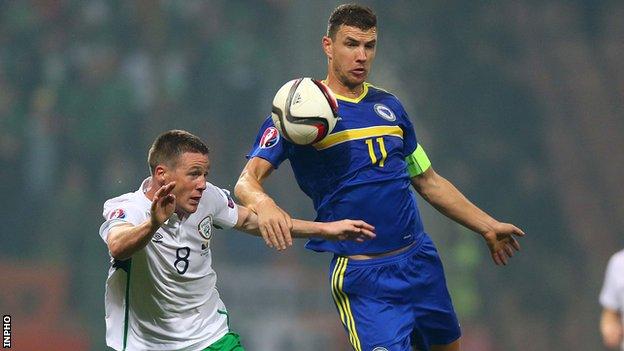 Republic of Ireland manager Martin O'Neill played down the importance of his side's away goal in their 1-1 draw with Bosnia-Herzegovina on Friday.
A goalless draw in Monday's play-off second leg will send the Republic to Euro 2016, but O'Neill says his team must aim to win in Dublin.
"I don't think the advantage is with us," said O'Neill. "Bosnia are capable of scoring a goal.
"We got an away goal which helps, but that can be wiped out in a minute."
O'Neill was worried the game could have been called off when a thick blanket of fog enveloped Zenica's Bilino Polje Stadium after half-time.
"I was concerned when the fog came down," he said.
"What I didn't know until afterwards was that if the game had been called off, we would only have come back for the rest of the game."
'A very foggy goal'
O'Neill said he was unable to get a clear view of Robbie Brady's 82nd-minute goal, which was cancelled out within three minutes by Edin Dzeko.
"It was a very foggy goal," he said. "I haven't seen it back but I think he did very well to get back into position."
O'Neill is hoping John O'Shea, Jon Walters and Shane Long will be available for Monday's second leg.
O'Shea and Walters were banned for the first leg, but the former could miss the match at the Aviva Stadium because of a hamstring injury.
"John will join up with us on Saturday," said O'Neill. "Jon Walters is coming in and I hope nothing happens. He can play in terms of fitness."
Long sat out Friday's game because of an ankle problem.
"Shane hasn't ruled himself out," added O'Neill. "He has had no football, which is very, very important, but it's great to know he doesn't want to rule himself out."