Truro City eye future Stadium for Cornwall move
Last updated on .From the section National League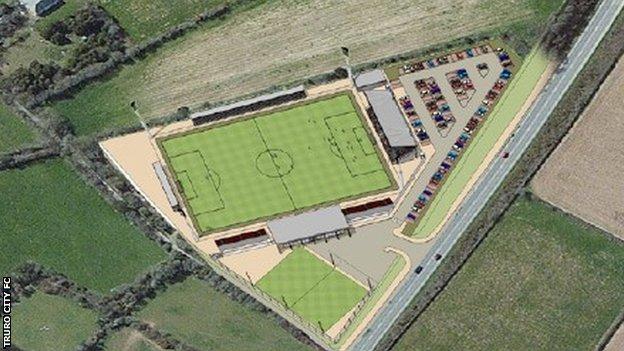 Truro City could play games at the new Stadium for Cornwall, despite planning to build a new ground of their own.
Truro are aiming to build a 4,000 capacity ground at Silver Bow.
The Stadium for Cornwall, which will be home to Cornish Pirates, is intended to be a 6,000-capacity venue, with scope to extend up to 10,000.
"The reality can be is that if we get into the Football League, if the stadium is already built and has a 10,000 capacity, then it would be a simple matter for us to play our main games in the main stadium," Truro City chairman Peter Masters told BBC Radio Cornwall.
"Meanwhile, we'll have our stadium up and running at Silver Bow."
Truro already have the funds to build their new ground with developers ready to start work in January, if the final few planning matters can sorted out, with the aim of being ready in the summer of 2016.
The Stadium for Cornwall still has to get retailers to commit to shops which are planned to be built alongside the arena in order to help fund the ground's £10m cost.
"We believe that we will know where we stand within three months, so we can start the build in late spring, early summer of next year," Cornish Pirates chairman Ian Connell said.
"This not about rugby it's not just about sport, it's about education, it's about business, it's about the community.
"It's not just the Pirates playing there, it's also the Cornish Sharks, the Cornish Rebels and at some stage we would like to think that it may include Truro City coming to play their league and cup games within the stadium."