Liverpool hope for friendly at Steven Gerrard's LA Galaxy
Last updated on .From the section Liverpool
Liverpool are in talks about a reunion with club legend Steven Gerrard - but not as a Reds player.
The Premier League club are planning another USA tour next summer and a game against Gerrard's new side, LA Galaxy, is top of the wish list.
"That's something we have on our radar of ideas," Liverpool chief executive Ian Ayre told BBC Sport in New York.
"Steven is back in Liverpool at the moment, so I'm sure we can have a chance to see what he thinks."
Gerrard, 35, joined LA Galaxy halfway through the Major League Soccer (MLS) season in July after spending 28 years at Liverpool and making 708 first-team appearances.
He has played 13 times for the California-based team, scoring twice, but was unable to inspire them past the first round of the MLS play-offs and has suggested he will retire next year.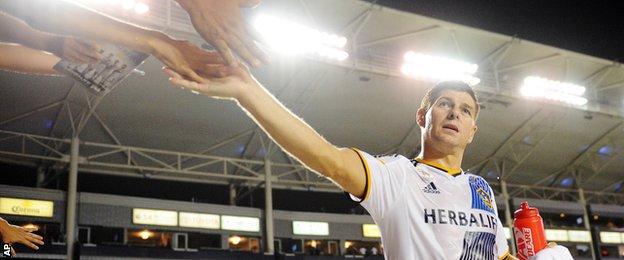 On previous summer tours to the US, Liverpool have stuck to the East Coast, most memorably when they met Manchester City at Yankee Stadium in 2014.
Speaking to the BBC at the Blazercon football convention in New York, Ayre said the club was keen to visit the West Coast as well next year but was still finalising opponents and venues.
With football enjoying unprecedented popularity in North America, every Premier League club is ramping up its efforts to attract new fans in the world's richest market.
"If you go back over the last seven or eight years, I don't think anybody in the Premier League would have predicted that this would become a key market," Ayre said.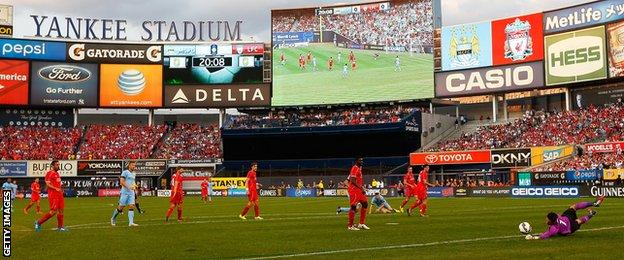 "Everybody always knew the size of the opportunity in the US was huge but I think everybody is trying to catch up with the pick-up it's had in the last five or six years."
Liverpool, thanks to their American owners Fenway Sports Group, have a slight head start over most Premier League clubs but Ayre is not taking that for granted.
"It's a bit transient at the moment and people are making their minds up," Ayre said.
"I don't think we get any special pass being Liverpool. We certainly don't act like that or expect that.
"What's important is we have a certain set of values, a history and a way of doing things. I think as we roll out our show and our offering, if you like, it's important to extol that.
"It's not about having the most fans, it's about having the best fans."
Anecdotal evidence from the games Liverpool have played in the US, and the number of Liverpool shirts on display at Blazercon, would suggest Liverpool's appeal has already transferred to the American market.
But Ayre said the club would not follow Manchester City's route of forging close links with an MLS team.
"We'll be uniquely Liverpool, from Liverpool," he said.
"Respect to Man City and what they're doing, but when we played them here a couple of years back I think 95% of the fans were Liverpool, so they've got some catching up to do.
"I think everybody has their own plan and we'll stick to ours. We're happy with where we are today."