Matt Green: Adam Murray says goals will come for striker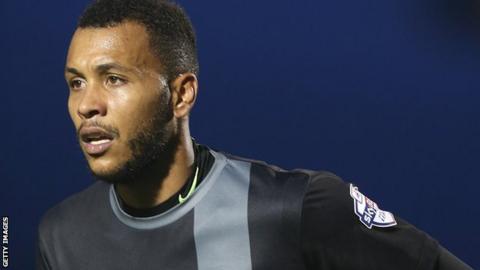 Mansfield Town manager Adam Murray says the goals will soon flow for striker Matt Green.
The 28-year-old has four goals this season but has not scored in his last eight appearances, including Tuesday's FA Cup defeat at Oldham Athletic.
Murray told BBC Radio Nottingham: "The more Matt plays, the more opportunity he will have to score. We have got to keep Matt's confidence there.
"We need one to go off his backside, his nose, whatever it is."
Green, who scored 56 goals for the Stags between 2011 and 2013, returned to the club in the summer after a two-year stint with Birmingham City,
Murray continued: "We have two options with Matt. We either put him on the bench or stick by him, knowing what's round the corner.
"The squad and the fans have got to keep Matt's confidence there, but Matt's not just all about goals.
"You look at his all-round play, his work rate, his hold-up play. Every manager you speak to after games compliments what kind of player he is.
"He just needs to hit the back of the net. The goals will go in for him."