Euro 2016: Ireland's Jon Walters is the 'hardest worker I've seen'
Last updated on .From the section European Championship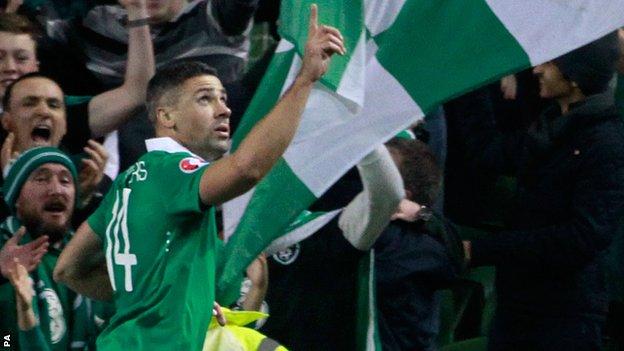 Jon Walters' work ethic means he deserves the hero worship that has come his way in the Republic of Ireland, says team-mate Darren Randolph.
"He is the hardest working footballer I've come across," said Randolph.
"So I'm over the moon for him and the fact he got his two goals. He deserves it all."
As the Stoke City man struck at one end in the play-off second leg victory in Dublin, West Ham goalkeeper Randolph was keeping a clean sheet in place of the injured Shay Given.
Randolph's recent Republic breakthrough

Randolph was first called into the Republic squad while with Motherwell in 2011 and his form for the Scottish Premiership club led to a move to Birmingham City before his switch to West Ham last summer.
But the 28-year-old has only made six appearances for the Hammers and four of his six Ireland caps have come in the last two months.
"When I haven't been involved, you sit and think 'I wish I was there and I'm not going to get the chance'," he told BBC Scotland when asked about the prospect of playing in the finals in France.
"At the start of the campaign, I wasn't even in the squad. I was fifth choice.
"So to finish it off playing and then qualifying for France is like a dream come true."
Randolph took over from Given for a now famous 1-0 win over Germany, his punt up the park setting up Shane Long for a late winner.
However, Monday's win in the second leg of their play-off was even sweeter.
"It is still sinking in," he said. "It was definitely the biggest game I've ever played in.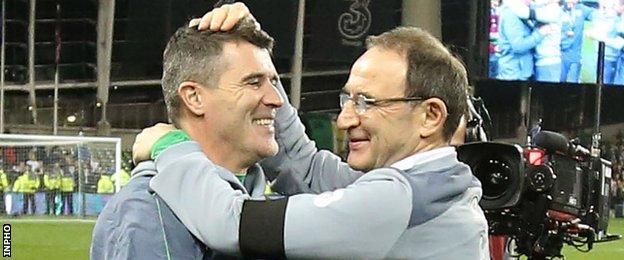 "I'm sure in the next few days I'll be sitting somewhere and it will come flooding into my head just what we have achieved.
"I may have looked relaxed, but I wasn't and I definitely wasn't feeling relaxed before the game.
"But, after you get your first couple of touches, you settle into the game and, luckily enough, everything went our way."
Randolph praised manager Martin O'Neill and assistant Roy Keane for steering the Irish to the finals after finishing ahead of Scotland in their qualifying group.
"They are the total opposites of each other, but they work well together," he added.
"It is a perfect balance and we've got a good team spirit.
"Everybody enjoys training and going away with the squad and I think that shows on the pitch."