Dean Smith and Martin Ling: Rival managers, but still close mates
Last updated on .From the section Football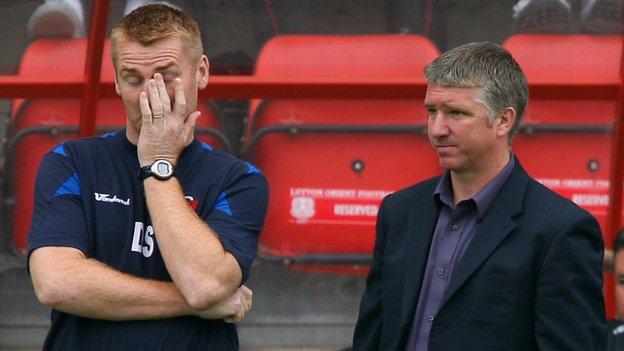 Walsall boss Dean Smith is not the sort of man to refuse any opposing manager the hand of friendship.
But Smith, 44, is particularly pleased that when the Saddlers go to Swindon on Tuesday night he will find himself up against his close mate Martin Ling for the first time as opposing managers.
It adds to the occasion that Ling, 49, is just three weeks into the job - his first since recovering from depression.
"He's been very open about the trouble he's had with depression," said Smith.
Smith v Ling - how their careers measure up

Smith - as player and manager

Ling - as player and manager

Player (defender):

567 league appearances for Walsall, Hereford Utd, Leyton Orient, Sheffield Wednesday and Port Vale. Total goals: 72

Player (midfield):

584 league appearances for Exeter, Swindon (twice), Mansfield, Orient (twice) and Brighton. Total goals: 75

Manager:

Leyton Orient (assistant manager 2005-09), Walsall (2010-)

Manager:

Orient (2003-09), Cambridge (2009-2011), Torquay (2011-2013), Swindon (2015-)
"It's great that he's out of that. In all walks of life, people suffer from depression, but end up going back to work.
"I went to watch them last Saturday against Scunthorpe. I waited for him after for a chat, and he looks in a good place.
"After what little part I played in his recovery, it's just nice to see him back. But we'll both be looking to get one over on each other on Tuesday night.
"He's got one over me in career appearances. I think he's got about 10 more than me - and one goal, but then he should, given the position he used to play. It would be nice to go and get a win over him."
'That's what you do for mates'
Ling is one of Smith's closest friends in the game.
"I spent four years playing with him at Orient, then five years as coach, first as his team-mate then as his assistant manager. And, in our first year together we got promotion to League One," the Saddlers boss told BBC WM.
"We're close friends with his family. His boy's now a professional at Leyton Orient and his daughter's at Coventry University. And I went to visit him when he was at his lowest ebb in the Priory. When he first had the bout, I was on the phone to his wife and went over to visit.
"I remember once when he was having a bad day as manager of Cambridge with the anxiety. Cambridge were playing away at York on a midweek night. I was head of youth here. I spoke to the then manager Chris Hutchings and said 'Do you mind if I shoot up to see Martin as he's not very well at the moment?'
"I drove all the way up to York, paid to go in behind the goal and all for a one-minute chat after the game. But that's what you do for mates. You go and support them and help them get through those times."
A win for third-placed Walsall could take them back into the automatic promotion places in League One, while victory for the struggling Robins could help them climb out of the relegation zone.
Walsall manager Dean Smith was talking to BBC WM's Rob Gurney.