Falkirk chairman Doug Henderson want bigger leagues in Scotland
Last updated on .From the section Football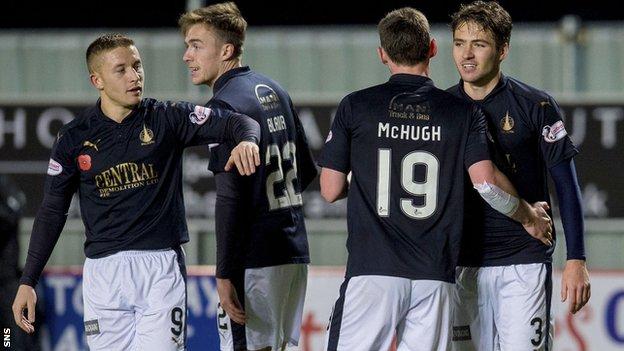 Falkirk chairman Doug Henderson has called for bigger leagues in Scottish football.
The Scottish Premiership currently has 12 teams, with the division splitting in two after three rounds of fixtures.
The Championship, where Falkirk are playing this season, and Leagues One and Two are 10-team divisions in which teams play each other four times.
"Our league structure is out of kilter with the economics of football in Scotland," said Henderson.
"I believe that my counterpart chairmen recognise what we have currently is outdated," he added.
"Playing other clubs four times a season is not attractive to most football supporters - as surveys show - and there is a slippage of attendance for many clubs in the Premier League.
"Television dictates our fixtures with high revenue Saturday games often being moved to midweek with little consideration given to fans and their families, or the financial consequences for clubs like Falkirk."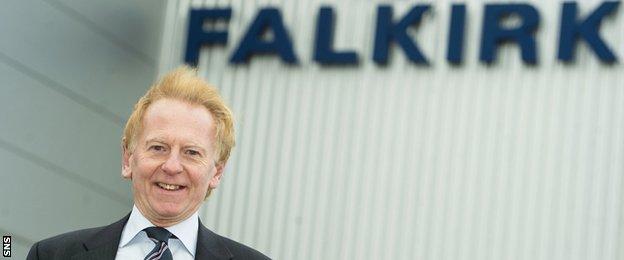 Scotland's two main league organisations merged in 2013 to become the Scottish Professional Football League.
However, only the names of the four senior divisions were changed and an agreement was reached to not re-visit the idea of league reorganisation until 2016.
One competition that is being reviewed by the SPFL is the League Cup, with the possibility of a group stage being introduced in time for next season.
"There are suggestions that the League Cup should be restructured," added Henderson.
"But I don't believe that a sectional League Cup would be attractive to supporters - unless the leagues themselves are restructured.
"[Next summer] is an opportunity for us all who love the sport to make sensible restructuring changes which can help to lay a strong foundation for the future, protecting the maximum number of full-time clubs and securing a sustainable platform for growth in our national sport."
Speaking to BBC Scotland before his side's win against Queen of the South, Greenock Morton manager Jim Duffy expressed his desire for a bigger top flight.
Saturday's game at Cappielow was the fourth time Queens and Morton had met in all competitions this term.
"The league should be a bigger league, it should be a 16-team league," former Dundee and Hibernian boss Duffy said.
"The familiarity, if you play the same team all the time, there's nothing fresh about it and fans will get bored."