Tony Vance: Guernsey FC paying players would solve away issues
Last updated on .From the section Football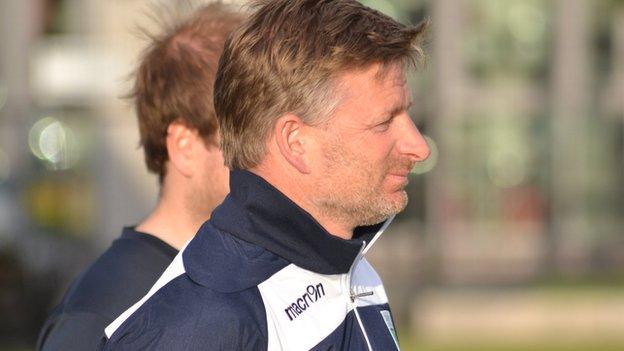 Guernsey FC manager Tony Vance says paying the club's players is the only way to eradicate their poor away form.
The Green Lions lost 4-0 at Molesey on Tuesday with Vance claiming his resources were at an "all-time low" as he had a threadbare squad to pick from.
"Solutions start with paying the players, because they have to miss work, it costs them money.
"That's a contentious issue in itself and we haven't got the money to do that," he told BBC Radio Guernsey.
Vance says the other option would be to sign players who do not live on the island.
But that would go against the ethos of Guernsey FC when it was founded, which was to give opportunities to play football in England for local players.
The club has already refused to sign top Jersey players Jack Boyle and Luke Watson unless they based themselves in Guernsey, while ex-Atletico Madrid youngster Guille Fernandez moved to the island in the summer and has been part of Vance's squad.
"We could get players from outside the island. That's a hugely contentious issue and something I'm not keen on, but we could meet a team in London for example and be fine.
"But that's not what this is set up to do, so I wouldn't like that at all," said Vance.
"I think it's a question of us having to grin and bear it to a certain degree."
He added: "It's one of the unique challenges I have and it's why I describe this as managing the most unique football club in the country.
"If you were employed in a normal job you'd struggle to manage Guernsey FC, that's for sure.
"The commitment is huge, it takes over your life."