Northampton Town: Ex-chairman Barry Stonhill part of takeover bid
Last updated on .From the section Northampton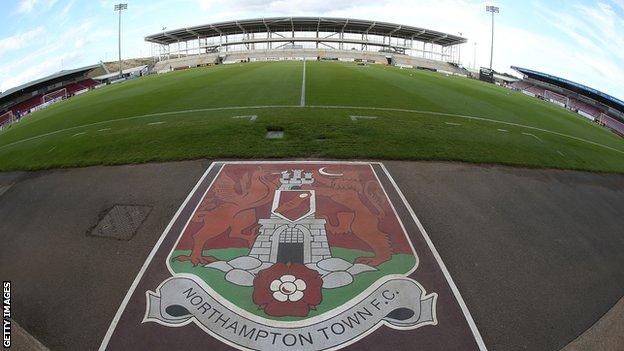 Four Northampton-based businessmen have said they are in talks to take over League Two club Northampton Town.
Ex-Cobblers chairman Barry Stonhill, former directors David Jackson and Barry Hancock, and ex-MP Brian Binley said they want to "save the club from administration or even extinction".
Businesman Kelvin Thomas has said that his proposed deal is in doubt.
And former Swindon chairman Jed McCrory is understood to have been in talks about a potential buy-out.
BBC Radio Northampton understands that McCrory, who was Swindon's chairman until December 2013, has been in talks with Cobblers chairman David Cardoza.
But it has now emerged that Cardoza has also been talking to the Northampton-based quartet who said their priority was to secure the future of the club, which is currently facing an administration petition from Northampton Borough Council and a winding-up petition from HM Revenue & Customs.
In a statement the group said: "Discussions between ourselves and David Cardoza have taken place over the last couple of days and we are confident a deal can be completed quickly with his cooperation, particularly if the deal with Kelvin Thomas isn't to proceed.
"We have spoken to Northampton Borough Council and believe we have their support on our rescue plan."
Meanwhile, Northampton's non-football staff have called on Cardoza to bring "matters to a conclusion now" after not being paid in October.
"We now demand this matter is concluded within hours, not days," said a statement from the club's staff.
"As things drag on, each day gets more and more difficult both professionally and personally.
"Professionally, attempting to run the club on a day to day basis with a frozen bank account presents extreme challenges that get worse with each passing hour as we attempt to maintain 'business as normal' as best we can.
"Personally, each day the delays in completing the takeover mean another day where we have to find a way to feed our families and pay our bills, while still not knowing when this whole nightmare will be concluded."
A "hardship fund" has been set up by Northampton Town Supporters' Trust to help non-football staff financially.
On Thursday, Sixfields Travel Club paid for the League Two club's non-playing staff to have a meal, and the players have been paid by the Professional Footballers' Association.
Last week, Northampton Borough Council, owed £10.25m in loan repayments, applied for the administration petition prior to Monday's HMRC hearing at the High Court in London over £166,000 in unpaid tax, which was adjourned until 30 November.
The council's petition will be heard on 27 November as administration petitions have to take precedence over winding-up petitions, and the council decided to bring it against the club "in a bid to buy time to pull together a rescue plan".