Troy Deeney invites former prison mates to watch Manchester United
Last updated on .From the section Football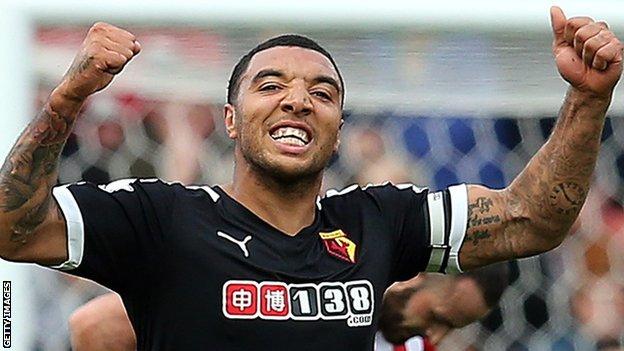 Watford captain Troy Deeney has fulfilled a promise made in prison by inviting six former inmates to watch him play Manchester United.
He said: "I've got my cellmates coming - I told them it would all come true.
"I have proved people wrong all my life. When people write me off, that's when I perform my best."
Watford stood by Deeney when he was released and the former Walsall striker has proved to be a key player for the Hornets, scoring 21 goals last season as they won promotion to the Premier League.
And the forward credits his time in prison with giving him a calmer outlook on life.
Deeney said: "I knew what I was going to do, succeeding as a professional footballer. I can't say whether a team's going to buy me or this team's going to keep me or we're going to do this, but I knew what I was going to do from that moment.
"A return to prison is not going to happen. No matter what, people can push my buttons, people can push me to limits, it's not going to happen again."