Second Belgian game called off as Brussels terror alert raised
Last updated on .From the section European Football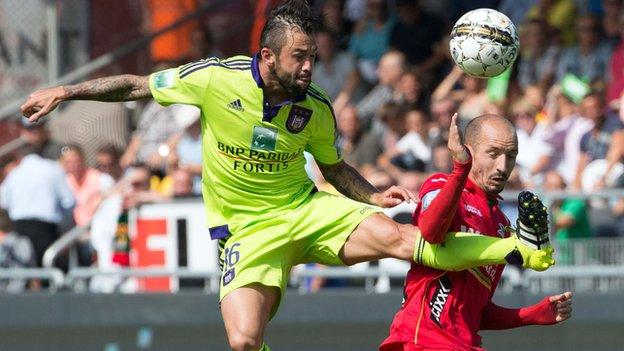 Two games in Belgium's first division have been postponed, after the league said "safety could not be guaranteed".
Lokeren's match against Anderlecht on Saturday and Mouscron-Peruwelz's game against Charleroi on Sunday were both called off.
Extra police were needed at both matches, but officers had to stay in Brussels amid fears of an attack "like the one in Paris".
Six other matches in the Pro League went ahead as planned over the weekend.
Lokeren is 75km (47 miles) from Brussels, while Mouscron is 105km (65 miles) from the capital.
The mayors of both cities took the decision to postpone the games.
Some of the attackers who killed 130 people in Paris lived in Brussels, where the terror alert level has been raised to the highest level.
No football matches will take place this weekend in the Belgian capital, where people have been told to avoid crowds.
Belgian Prime Minister Charles Michel said the decision to raise the threat level was "based on quite precise information about the risk of an attack like the one that happened in Paris... where several individuals with arms and explosives launch actions, perhaps even in several places at the same time".
A statement from the Pro League said: "Considered a risky game, Lokeren had to call in staff from Brussels. But given the increase in the terrorist threat to the maximum level in the capital, they cannot be moved to Lokeren.
"It is for the same reason that the Mouscron-Peruwelz-Sporting de Charleroi game is also cancelled."
Anderlecht are the only Brussels-based team in the Belgian top division.
Belgium's friendly with Spain in Brussels, scheduled to be played on Tuesday, was called off on Monday because of security fears.
Germany's friendly against Netherlands in Hannover on Tuesday was called off after a bomb threat.