Rangers' Mark Warburton backs B team idea raised by Celtic boss

By Alasdair Lamont
BBC Scotland
Last updated on .From the section Rangers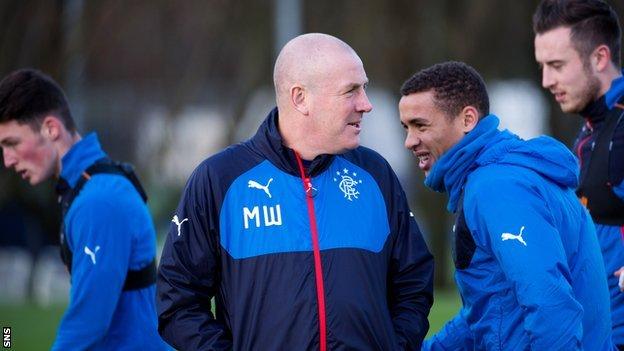 Rangers manager Mark Warburton has endorsed the notion of B teams raised by his Celtic counterpart Ronny Deila.
Deila said on Friday he felt that allowing clubs to field what would effectively be a youth team in the lower senior leagues would be beneficial for player development.
"You've got to challenge the players in a competitive and varied environment," Englishman Warburton told BBC Scotland.
"I said something similar down south and got a barrage of abuse for it."
Warburton, who previously managed English Championship side Brentford, was involved in the creation of the European under-19 NextGen Series.
"Our young players are playing the same ones week in, week out," he added. "It holds no real challenge for them.

"We have to look at the quality of offering to best prepare them for that transition from exciting young performer to competent first-team performer.
"Now, we're not bridging that gap."
Deila has cited Spain and his Norwegian homeland as examples of where "colt" teams are used to develop players by their top clubs.
The idea is not a new one in Scotland either and was most recently mooted at senior level by the former chief executive of the old Scottish Football League, David Longmuir.
He asked clubs to consider allowing Celtic and Rangers to field such teams in the SFL, but the idea was superseded by league reconstruction.