Garry Monk needs more backing from players, says Ashley Williams
Last updated on .From the section Swansea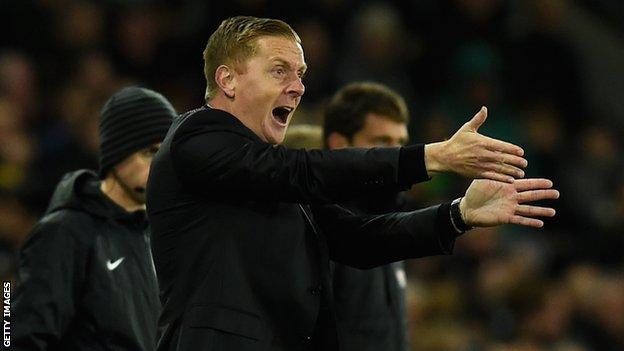 Captain Ashley Williams says the Swansea City players have been guilty of failing to voice their support publicly for manager Garry Monk.
Monk's position has come under intense scrutiny during a run of one win in nine Premier League matches.
When asked about Monk's position after the recent Wales friendly, Williams replied "no comment" three times.
"This is me coming out and backing the manager officially because I don't think we've done that enough," he said.
"We back him, of course we back him. I thought about it in the week that we haven't really come out enough and said that we back him.
"I don't think we need to for him, because he knows that we back him. We speak to him a lot and he's working as hard as we are, or harder because he understands the situation we're in.
"We're trying to do it for him as well as ourselves. We see how hard he works and see he's coming in for a lot of stick at the minute."
'Most difficult period'
Monk praised the players for coping with the "tension and anxiety" among the Swansea fans after falling 2-0 behind against Bournemouth at the Liberty Stadium on Saturday.
Andre Ayew's backheel and a penalty from Jonjo Shelvey salvaged a point for the Swans, who have won only once since beating Manchester United at the end of August.
Ayew, who described Monk as a "great manager" after the game, added: "When you're in a club like Swansea that wants to grow and you don't get the results everybody gets the pressure.
"That's normal, but we just want to stay focused on the field and not look at what's happening outside."
Since joining in 2008, Williams has been a centre figure in one of the best periods in Swansea's history, winning the League One title, promotion to the Premier League, the Carling Cup and achieving a highest Premier League finish of eighth last season.
He describes the current run as the toughest he has faced at the club.
"You forget what it's like [to struggle]," said the 31-year-old defender.
"Other footballers at other clubs have to go through this every year but at Swansea we've all kind of forgotten, me included.
"We've all been there before but we've had a good few years here with a lot of success so it's the time now to show what we're about, which we are doing."
Searching for answers
Swansea's prospects of securing that elusive win seem slim with a testing run of games on the horizon.
After visiting Liverpool on Sunday, they welcome league leaders Leicester City and then face a trip to Manchester City.
"We're not happy with what's been going on and we are working hard behind the scenes. We're trying to figure things out," added Williams.
"We're talking a lot and trying to do our work on the training pitch to get back to where we've been for a number of years.
"We're still looking for the answers and I think most of it goes down to keep working hard and it should come together, it normally does.
"It's about stopping it before it's too late."