Real Madrid: Sergio Ramos asks for fans' 'forgiveness'
Last updated on .From the section European Football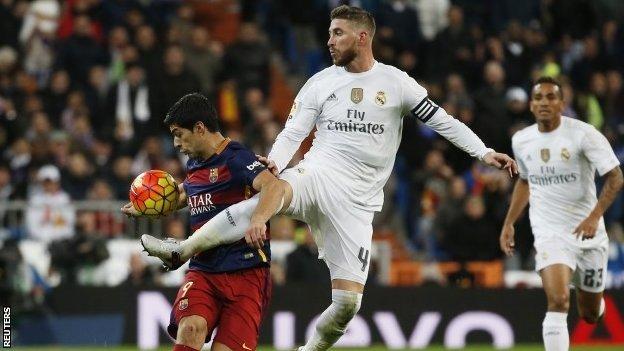 Real Madrid captain Sergio Ramos asked the club's fans for "forgiveness" after their 4-0 home defeat by Barcelona left them six points below their rivals.
But the centre-back insisted the players still believed in Rafael Benitez, who was managing in El Clasico for the first time.
"Obviously we are standing firmly by the manager," Ramos said.
"In order to be successful you have to remain united, and that's even more the case when things don't go well."
Read more from El Clasico
He added: "We have to ask the Real Madrid fans for forgiveness for our poor performance. We didn't play to the standards of this crest.
"With this pain comes an opportunity to exact revenge in a few months' time.
"Words are cheap. Those affiliated with Real Madrid want action, not words. We, the team, are angrier than anyone because it was a match in which we had a chance to finish as league leaders.
"If football was like maths, then it would always work out as planned."
'Not an attitude problem'
Left-back Marcelo said: "We have to apologise to the fans and keep on fighting. Looking at the players' faces during the game, there wasn't an issue with our attitude."
Midfielder Luka Modric agreed with his team-mate.
"It's a difficult moment for us," he said. "We didn't expect to lose and play so badly. We have to learn from our mistakes.
"We don't think that it is an attitude problem, but we don't know the reason. We didn't play as a team, and if you're not compact against Barcelona, then this happens."